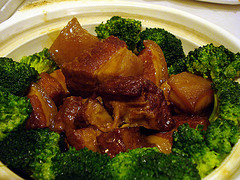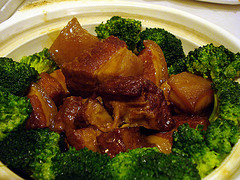 Braised Turnip and Pork
Serves 1
Ingredients:
3 oz. preserved white radish or turnip
5 oz. lean pork
1 tbsp. soy sauce
1 ½ tbsp. sugar
4 tbsps water
Oil for deep frying
Directions:
1. Cut the turnip and pork into matchstick pieces. Marinate the pork in the soy sauce for 30 minutes.
2. Heat the deep fat and deep fry the pork for 45 seconds.
3. Heat the wok and add 2 tbsps oil. Stir fry the turnip for 45 seconds, then add the pork and sugar and fry for further 30 seconds.
4. Add the water and simmer for 10 minutes.