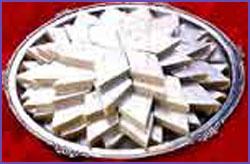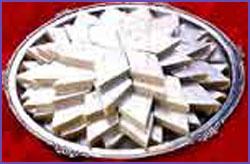 Kanahindri
Ingredients :
1 pav fine soji
4 tbsp ghee
7-8 cashewnuts
1 pav sugar
½ cup coconut gratings
3-4 cardamom pods
a few raisins
Method :
Boil about 2½ cups of water and keep aside.
Roast raisins and cashewnuts slightly, with a little ghee.
Roast soji, adding more ghee.
Put the roasted soji in a vessel and add hot water.
Cook till it becomes soft, turning over now and then. When done, add sugar.
When sugar melts and boils well, put coconut gratings, cashewnut bits and raisins.
Turn over constantly for a few minutes.
Then put powdered cardamom and take out from flame.
Smear an idli-cup with ghee.
Fill it tightly with the cooked mix and invert it over a wooden board (also smeared with ghee) sharply with a bang and dislodge the mix.
Repeat process till all the soji mix is used for making kanahindris.