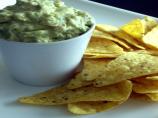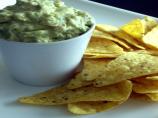 Guacamole with Sour Cream
Ingredients:
1 large avocado, scooped out of shell and mashed
2 tablespoons sour cream
1 garlic clove, pressed
1 tablespoon salsa
1 teaspoon balsamic vinegar
1 tablespoon sweet onion, finely diced
1 teaspoon cilantro (note, some people find it vile) or 1 teaspoon parsley (note, some people find it vile)
1 tablespoon tomato, finely diced
2 teaspoons black olives, minced
1 teaspoon fresh lemon juice or 1 teaspoon lime juice or
salt, use less if you'll refrigerate (you shouldn't need much)
Preparation:
Cut the avocado in half, scoop out the flesh with a spoon; mash 3/4 of it well and chop the remaining 1/4 coarsely (I do this with the spoon, in the avocado shell, before scooping the last bit out). Mix it into the mashed portion. Mix all remaining ingredients together. Serve immediately, or cover with plastic wrap, pressing wrap firmly to surface of guacamole (or it will turn color due to oxidation) and refrigerate up to 4 hours before serving.