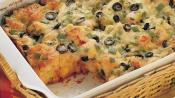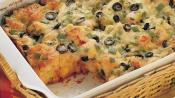 Mexican Fiesta Bake
Ingredients:
1 lb ground beef
2/3 cup shredded cheddar cheese
1 package taco seasoning
1 package cornbread mix
1/2 cup salsa
3/4 cup water
Preparation:
Brown the ground beef, draining the excess fat. Add the salsa, taco seasoning and water. Cook for about 15 minutes (or until the water is reduced). Place the beef in small casserole dish and sprinkle with 1/3 cup of the shredded cheese. Mix the cornbread according to the package directions and add the remaining shredded cheese. Mix well, then spread the cornbread on top of the beef. Bake at 400 degrees F for about 20 minutes (or until the cornbread is golden brown on top).