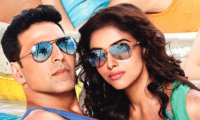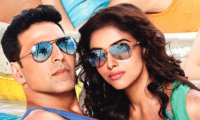 He is an actor who needs no introduction. A deadly mix of good looks, charm and talent, he is extremely grounded despite being a superstar. Having started out as an action hero nearly two decades ago, Akshay Kumar gained popularity for his romantic and comic roles as well.
The actor with an impeccable comic timing kick starts 2012 with Housefull 2, the sequel to 2010's rib tickling comedy Housefull. Bollywood Hungama's Divya Rajani caught up with Akshay Kumar at his swanky Juhu residence, where the actor in his usual jovial mode spoke about his upcoming films, his remuneration, the secret of his fit body and more.
Tell us about your upcoming film Housefull 2.
The film is about the confusion that takes place in one house when so many people come there that it becomes houseful. There is too much happening. The reason why everybody comes to the house and why all the confusion takes place is because Riteish Deshmukh's character wants to get married and his father (played by Mr. Mithun Chakraborthyji) is a very strict man. And just to get him married, all the confusion starts.
What is your role in Housefull 2?
I find it really difficult to describe my character in Housefull, my character is very similar to the characters Ranjeet used to play in olden days, but I don't have his rapist side. My character is a nain sukh, meaning he will only stare at a girl, he won't touch her but will stare at her from the moment he sees her enter the room till she leaves the room.
Does Ranjeet know that you play a character modeled on him?
Yes, he does. Ranjeet plays my father in the film, so it is natural that I have some of his traits.
Is Housefull 2 also a slap stick comedy like Housefull?
Yes, it is. There is one scene in the film, where I take my girlfriend to meet my father, played by Ranjeet, and I say "Daddy inse mileye", so he checks the girl out not knowing that she is my girlfriend, rubs his chest and says, "Beauty Beauty Beauty" then I say "Yeh meri girlfriend, aapki hone wali bahu hai" so he says, "Oh! Beti Beti Beti." So from beauty she becomes beti. Also he plays a therapist in the film, but on the signboard there is a gap in the spelling and it is written as 'The rapist', so no one comes to him and he keeps wondering why. Even though it is a slapstick comedy, it is a story-driven film.
In Housefull you had scene with a tiger, so what there in this film?
Housefull 2 has a crocodile. I have a fight with the crocodile.
How is Housefull 2 different from Houseful?
The cast is different, the story line is different otherwise it's all about one house.
Tell us something about you so-star Asin.
She is beautiful and very professional.
This is your third film with Sajid Khan, how much do you feel has he improved as a director?
There is no difference in him. I think he should not improve; he should just be the way that he is. He works with his instincts, he doesn't go about taking shots as per the book, and he goes by the way he wants to do it. He keeps saying that his comedy is what comes from within. He tweaks the dialogues even while we are shooting. If you sit with him, he can make you laugh for 24 hours.
But he said that he has matured.
(Laughs) When you say I have become mature is another sign of immaturity. His strength is that he is immature. And because he is immature and full of fun, frolic and humour, it can be shown in his work.
You said that Sajid Khan improvises the dialogues on the sets, does that happen very often?
Yes, we did have dialogues but we also have improvement on the sets. There are some directors like Neeraj Pandey (director of Akshay's next Special Chabbis) and Milan Luthria, who don't want you to think about the character and come because if you think and come and they ask you to do the role in a particular way then there is a clash. So it is better that without thinking you just go with the script. Just know your dialogues and lines and come on the sets and these directors act and show you how that scene is to be performed. There is no space for improvisation in their scenes. Directors like Neeraj and Milan do all the homework and just expect you to come on the sets and perform. On the other hand, Sajid, Raj Kumar Santoshi and Mahesh Bhatt come from that school of improvisation. I prefer both.
When do you start shooting for Once Upon A Time In Mumbaai 2?
Once Upon A Time In Mumbaai 2 is going to start in August.
The posters of Rowdy Rathore look very interesting.
Well, thank you very much. All I can say is that it is my comeback in action. I am returning to action films after 6 years with Rowdy Rathore. I am very excited about that film in fact, I have just come from the dubbing the trailer of Rowdy Rathore.
Why did Rowdy Rathore get preponed?
That is something UTV will be able to answer better.
Rowdy Rathore is the remake of Telugu film Vikramarkudu and there is also Bengali remake called Bikram Singha being made, so do you feel that will decrease your audience for the film?
I hope the Bengali remake is not called 'Rowdy Banerjee' (laughs), but it is a nice title. I don't think that my film's audience will decrease. I have played the role my own way; I have not even seen the Telugu version. I did what came naturally to me.
How is Prabhudeva as a director?
Technically he is an excellent director, technicality is his specialty. He gives you space to improvise and he is very quiet. Waise maine dekha hai key yeh Southwale zyada baat nahi karte.
How excited are you for your first 3D film Joker?
I am very excited and am looking forward to see the result.
Are you really happy with the outcome of Joker because some media reports suggest the other way?
I have not seen the film yet. There is a certain section of the media that just writes whatever comes to their mind. Two weeks back someone wrote that I am getting divorced and now they are writing that my wife is expecting another child. I have already sent a legal notice to that publication.
After Dabangg, Sonakshi Sinha will be seen in both your films Rowdy Rathore and Joker.
Sonakshi Sinha is a wonderful, she is beautiful, she is professional and she has a great memory when it comes to learning lines. She has done a wonderful job in both the films.
It is said that you recommended Kajal Aggarwal for Special Chabbis.
That is not true. I don't get into casting. That was very much the director's call.
What are you more comfortable doing action or comedy?
I enjoy action the most, the hardest part is comedy. It is very difficult to make people laugh.
You also have a film called Oh My God, which you are producing.
Oh My God is my first production with my partner Ashwini Yardi under the banner Grazing Goat Pictures. I am just producing the film not acting in it.
You have two production houses, Hari Om Productions and Grazing Goat. How involved are you with your production houses?
I don't handle the production aspect of my films. My partner Ashwini handles everything; she is a one man show. Hari Om Production is handled by someone else. I just put in my money but the work is done by someone else.
Why did you get into production?
See if a producer wants to sign me then it becomes difficult to tell him what figure I want to charge. Sometimes the money you demand may be too much or too less according to the budget of the film. The actor's fee depends upon the film, whether you want to make a big budget or on a small budget film. So instead of becoming a burden on the film, I decided to make the film on my own and then my remuneration becomes zero since I can't charge myself. Then once the film is made and released I get paid according to the profits. Sometimes if the film does really well then you can make money of more than two films in just one and sometimes you make less. But in such a case the film doesn't flop as the budget on which you have made the film is easily recovered as what really kills the film is the actor's cost. Now if you remove the cost, make it zero and become the producer yourself, the exhibitors, distributors and theatre owners don't make a loss.
Do flops bother you?
Nothing like that, hits and flops keep coming. I don't cope with flops, I don't do anything about that, I just work harder on my next film. Seven years back I had delivered 14 flops together, Big deal! You just keep on working. It is a fact of life that every human being, be it a cricketer like Sachin Tendulkar, or any actor or student or politician, everyone has to go through highs and lows of life. Even a king has to go through that. If one understands that then there is no problem in life. All these films are my home productions, so I must have made less money that is it, no one else has had to bear the brunt.
You don't have a film that has crossed the Rs.100 crore benchmark, does that bother you?
See every year that benchmark is going to keep on breaking, Today it is 100 crores, tomorrow it will be 200 crores and one day if I am in the industry for 5 years believe me 400 crores will also look small. I was the first actor to come till 70-80 crores with Singh Is Kinng then that record got broken and the benchmark became 100 crores, then 120 crores, the records will keep on breaking and this is my challenge that by 5 years 400 crores all India release theatrical will happen.
You have completed 20 years in the industry and acted in over 90 films, which of your films are your favourites?
Many films like Sangharsh, Janwaar, Khakhee and Dhadkhan. I have loved Rowdy Rathore, I have really enjoyed it. Wohi tofaan chal raha hai aur wahi barish aa rahi hai.
What is your son Aarav's opinion on your films?
He is too young, my son still watches Tom and Jerry. I want my son to be away from films, I want him to enjoy his childhood, I want him to go play football, go play on the beach and enjoy life.
Despite being in the industry for so long you have never been tagged as a party animal, how is that?
I sleep early and get up early, I don't really enjoy partying. I don't say that it is bad to party but I just don't enjoy it. I don't get it as to why they play such loud music. If I am going to wish someone for their wedding or birthday then I wish them and come out. You won't believe but by 9 o'clock I am gone. I like to sleep early; I am a guy who sleeps by 9-9:30 and get up by 4-4:30 in the morning. Twinkle also sleeps by quarter to nine. We both like to sleep early and get up early. Life becomes very calm if your partner sleeps at the same time. I have done photo sessions at 4:30-5 in the morning and lot of heroines curse me because of that.
You have the fittest body in the industry, how do you maintain it.
I play sports like volleyball, swimming, I go trekking, and rock climbing and I love water sports. Another thing which is a must is desi ghee, because it is very healthy. Your body needs that kind of nourishment especially your bones and joints. My grandmother, who passed away last year, was alive till 98 and used to have 2 spoonfuls of ghee every day. It is not fattening, it is only fattening if you eat ghee and don't exercise.
Now days a lot of youngsters are experiencing health problems due to excessive work outs. What is you take on that?
The most important thing that people don't concentrate on is warm up and after finishing your workout, cooling down. This is something 99 percent of the people avoid as they think that the real thing is exercise. But coolings down is very important, when you finish your exercise; you have to give your body ten minutes to cool down because that is the time when your nerves starts opening so you have to relax them. Another problem is lot of people take steroids, powders and myoplex. Time has gone when man used to believe in mothers' home cooked food, now they all depend on myoplex as it is the shortcut and the easiest way to make a body. People believe in dieting, you can diet but see to it that you finish your dinner before 6 in the evening. Eat whatever you want to eat, but eating after that is useless. After 6:30-7 whatever you are eating is slow poison.