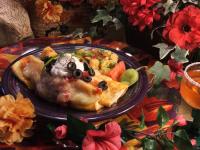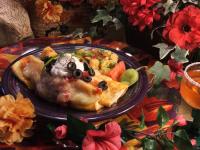 Enchiladas Suizas Con Pollo
Ingredients:
8-12 soft taco-size flour tortillas
3-4 boneless skinless chicken breasts, cut into bite-sized pieces
1 (16 ounce) container sour cream
1 (12 ounce) package aged Swiss cheese
1 (14 1/2 ounce) can Del Monte original stewed tomatoes, chopped with juice
oil, for soft-frying
Preparation:
Shred 8 oz. of the cheese and slice the remaining 4 oz. In a large bowl, combine the shredded with the chicken and 3/4 of the sour cream; set aside. Soft fry the tortillas in a little oil; set aside. In a pie dish, pour the chopped tomatoes with juice. In a sprayed 13×9 pan, pour a little tomato juice to lightly coat the bottom of the pan. Dip each tortilla into the chopped tomatoes, lightly coating with their juice, then fill with the chicken mixture. Roll up the tortillas and place them seam-side down into the pan. Pour the remaining tomatoes down over the center of the rolled tortillas. Top each tortilla with a slice of Swiss cheese and bake, uncovered, for about 20 minutes in a preheated 350 degrees F oven. Top each tortilla with a dollop of sour cream and bake for about 5 more minutes.