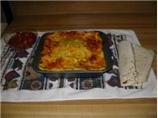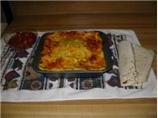 Easy Chile Rellenos Casserole
Ingredients:
1 1/2 cups shredded Monterrey Jack cheese
3 eggs, lightly beaten
1 (4 ounce) can diced green chilies
1 1/2 cups milk
2 tablespoons flour
Preparation:
Preheat the oven to 350 degrees F. Sprinkle 3/4 cup of the cheese into the bottom of a lightly greased 8-inch square baking dish. Top with the diced green chilies, then add the remaining cheese. Place the flour in a medium bowl and gradually add the milk, stirring until smooth. Add the beaten eggs, stir until well blended. Pour this mixture over the cheese. Bake in the oven for about 45-50 minutes (or until a knife inserted in the center comes out clean). Serve with salsa and your desired toppings (like sour cream, chopped green onions or sliced olives).