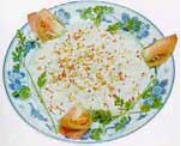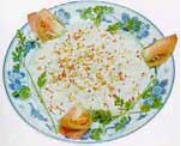 Stir Fried Egg White with Milk
Ingredients :
235ml milk
40g cooked crab meat
6g minced Chinese Jin Hua ham
40g rice vermicelli
260g egg white
100ml oil
Seasoning :
40g cornstarch
1/3 tsp chicken stock (powder)
1/3 tsp salt
Directions:
Deep fry rice vermicelli in boiling oil over low heat, take out and drain. Combine milk, cornstarch, seasoning and egg white, stir well.
Heat the wok, pour in the oil, when the oil becomes warm, pour in half portion of milk mixture, stir well, take out.
Stir fry another half portion of milk mixture with crab meat till
done, then put the stir-fried milk mixture back to the wok, stir
well, take out and place on top of vermicelli, sprinkle minced ham. Serve.