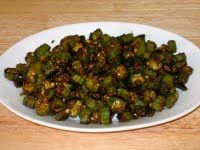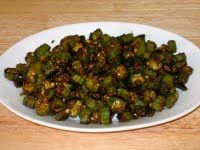 Bhindi Masala
Ingredients:
2 pounds bhindi
2 onions (chopped)
1 tblsp ginger garlic paste
1 tblsp coriander powder
1 tsp cumin seeds
1 tsp red chilly powder
1 tsp garam masala powder
1 tsp amchur powder
1/4 tsp turmeric powder
salt to taste
oil
How to make bhindi masala:
Wash and cut bhindi in halves.
Heat oil in a wok or kadai.Add cumin seeds and let it splutter.
Add chopped onions and ginger garlic paste.Fry till golden brown.
Now add cut bhindi with rest off the spices and stir well.
Cook it on medium flame and keep stirring it ocassionaly so it does not stick at bottom.
Keep feying till bhindis are cooked.
Serve bhindi masala hot with chapatis.