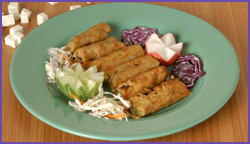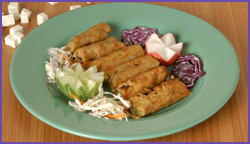 Ingredients :
2 whole chicken breasts
1 tsp salt
¼ tsp pepper
¼ tsp five spice powder
1 clove garlic, crushed
4 slices ham
plain flour
1 egg, lightly beaten
2 tbsp milk
4 spring roll wrappers
oil for deep-frying
Method :
Remove skin from chicken breasts.
Using sharp knife, carefully remove chicken meat from bones to make 4 pieces.
Separate the fillet which runs along the bone on either side.
Pound breast pieces and fillet pieces out separately until very thin, taking care not to tear meat.
Lay fillet piece on top of each breast piece, on top of each breast piece, pound lightly. Spread chicken piece, pound lightly.
Spread chicken pieces with combined salt, pepper, five spice powder and garlic.
Roll each slice of ham and place on top of chicken, roll up firmly. Fold in ends to secure.
Toss chicken rolls in flour, then dip in combined egg and milk.
Place a chicken roll diagonally across each spring roll wrapper.
Fold in ends and roll up securely. Seal ends with a little egg mixture.
Deep-fry rolls in hot oil until golden brown and cooked through; drain on absorbent paper.
Cut each roll into diagonal slices and serve with sweet and sour sauce.