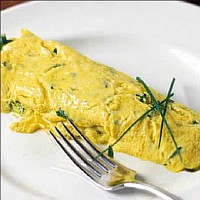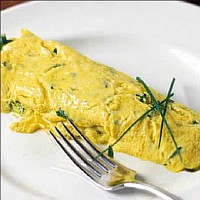 How to make a scrumptious and mouth watering omelette for that perfect breakfast menu! Indian Maharaja Omelette
Indian Maharaja Omelette
(2 servings)
Ingredients
2 large eggs – beaten
2 teaspoons olive oil
1 large onion
1 large green pepper
1 15-ounce can diced tomatoes
3 long slices from a block of cheese of your choice
Salsa and/or hot sauce to taste (optional)
Salt and pepper to taste
Method
 
1. Finely chop the onion and green pepper, and dump it into a large sealable bowl along with the tomato.
2. Pre-heat a large skillet over medium-high heat. It's hot enough when a drop of water dances on the surface.
3. Meanwhile, saute two tablespoons of the vegetable mixture in the olive oil until the onion clarifies; set aside.
4. Spray the skillet with cooking oil spray, then pour the beaten egg into the skillet, covering the entire cooking surface.
5. Add salt & pepper. Allow it to set.
6. While the egg sets, cut three slices of cheese from the block, and lay it on the egg, right down the center of the pan.
7. Place the veggie mixture on top. When the egg has set, the edges will curl up a bit. This will allow you to slip you spatula underneath without tearing the omelette.
8. Fold one side over the cheese and veggies, then the other.
9. Allow to sit in the pan for a few more seconds to allow the veggies to become heated through, and the cheese to melt.
10. Serve. Cover with salsa/ and or hot sauce if desired.