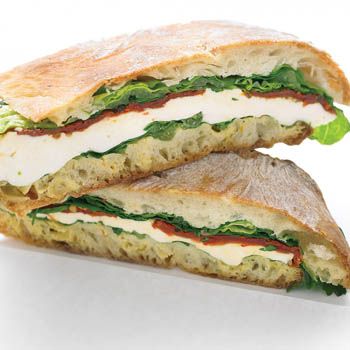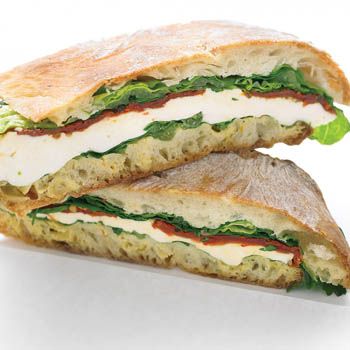 No panini pressis required: For the simplest Italian lunch, good cheese, a couple of cans and crusty bread, will do just good. Try to get

ciabatta bread

, in bins or bagged, at the bakery and or in the deli section. Its crusty exterior, floured and dense interior are just perfect for

pressed sandwiches

.

INGREDIENTS:

– Two tablespoons Dijon mustard

– 1/2 loaf ciabatta bread (about 5 ounces), split horizontally and hollowed out

– 1/2 cup oil-packed sun-dried tomatoes, drained, reserving 1 tablespoon oil

– 6 ounces fresh mozzarella, sliced

– Romaine lettuce leaves

– Coarse salt and ground pepper

– 1/2 cup fresh flat-leaf parsley, leaves

STEP 1:

In a normal small bowl, whisk together oil and mustard until thick; spread it on bread. Layer bottom half of bread with a few lettuce, then tomatoes, cheese and parsley. Season with pepper and salt. Top with remaining bread and lettuce.

STEP 2:

Wrap the sandwiches in plastic tightly; place on a baking sheet. Top with one more sheet, and weight down with heavy skillet or canned goods. Refrigerate at least one hour and up to overnight to meld flavors. Cut in half pieces and serve.

Click HERE to read more from Fashion Central.