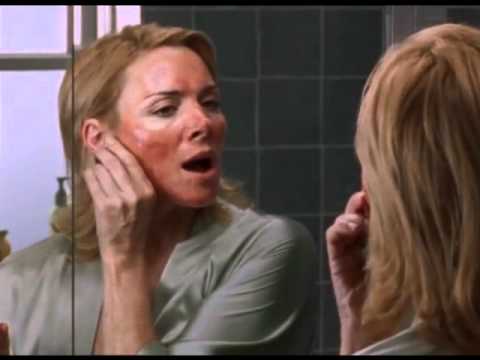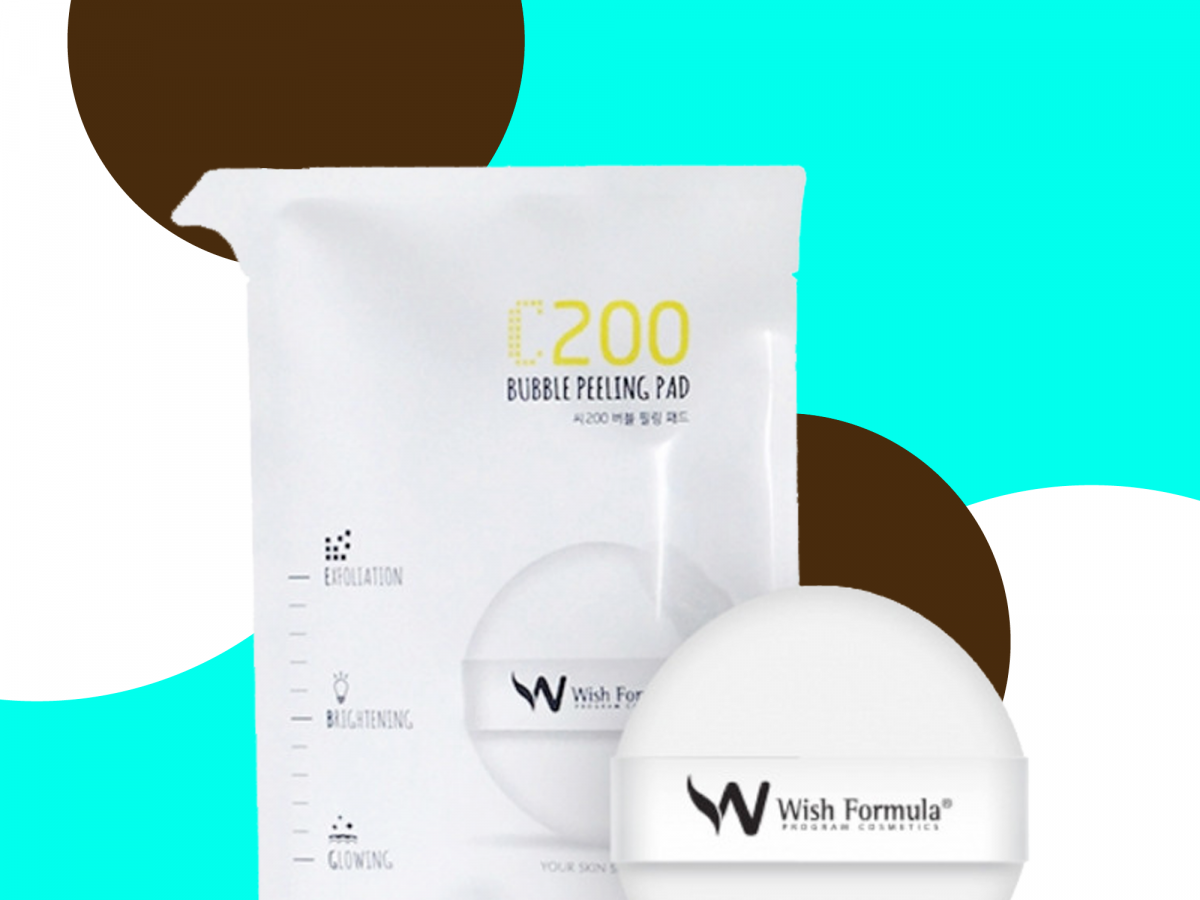 Flash back, if you will, to your very first foray into exfoliation. Did it involve a tub of crushed-walnut scrub? Possibly a loofah? We, too, once subscribed to the grit-is-good philosophy. But time has told us that sloughing off dead skin doesn't have to be (and, for your skin's sake, shouldn't be) a rough experience. Exfoliation is essential to fresh, luminous skin — and luckily, products that facilitate the process have mellowed considerably over the years.
Unlike the sharp-edged, sandpaper-y grains you attacked your teenage acne with, today's scrubs wouldn't dare scratch your face or leave it ruddy. We're seeing smart resurfacing molecules that selectively erode only dead surface cells, sparing the healthy skin below, to give a glow sans side effects. Even hardcore home peels have gotten crazy considerate, delivering on promises not to irritate by offsetting acids with generous doses of hydrators and inflammation-quelling extracts.
In fact, some of our new favorite exfoliators are so gentle, they can be used daily (or close to it), but leave skin smoother than any harsh scrub ever created. Ready to become a convert yet? Ahead, skin buffs weigh in on all that's new in the realm of next-generation exfoliation.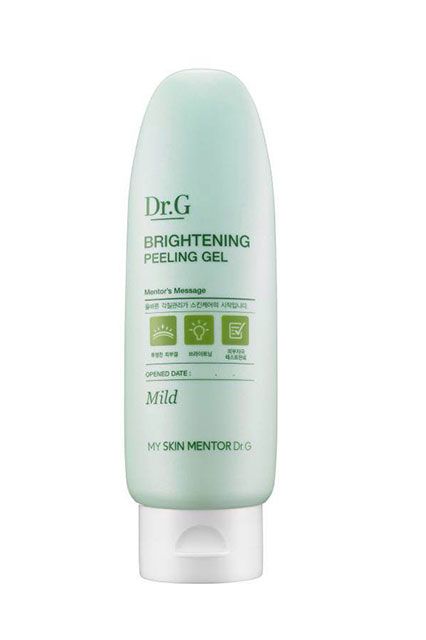 The K-Beauty Buffer

While the beauty world has been freaking out over aqua peels, the next big K-beauty star has been quietly gaining steam. Behold the latest in Eastern exfoliation: The Dr.G Brightening Peeling Gel, a gommage-type treatment. It is, put simply, "the best thing ever," says
Glow Recipe's
Sarah Lee, emphasizing its soft texture and gentle ways. Created by a South Korean dermatologist renowned for his exfoliating facials, the gel sloughs and hydrates to radiant effect. (If you haven't heard of gommage, it's a special type of liquidy gel that pills up as you rub it into dry skin, capturing what looks like dead cells in its wake.)
According to cosmetic chemist Ginger King, older gommage peels used ingredients made to coat the face and flake off, giving the impression of shedding skin. However, she adds, "It wasn't so much dead cells you were seeing, but rather the residue of ingredients rolling off the skin's surface." But new versions are winning over influencers like Lee because they've updated the classic formula with better buffers (such as cellulose, a plant-derived fiber). "These soft, spongy materials provide a source of friction to carefully nudge off actual skin cells," says King. The latest gels bolster this exfoliating action with mild fruit enzymes or acids, and top things off with moisturizers and anti-inflammatory botanicals. Sold.
Dr.G Brightening Peeling Gel, $28, available at Glow Recipe.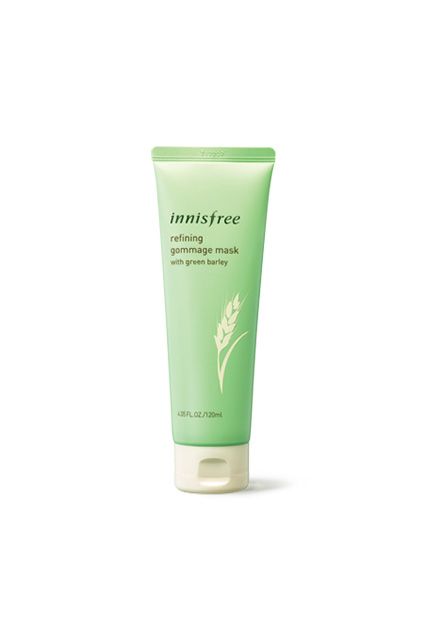 This gentle refining mask exfoliates in two totally different ways: Natural cellulose buffs away dead skin while glycolic and salicylic acids offer the perfect amount of chemical exfoliation. Apply a thin layer to freshly cleaned skin, wait three minutes, then use your fingertips to roll it all away — so satisfying.
Innisfree Refining Gommage Mask with Green Barley, $13, available at Innisfree.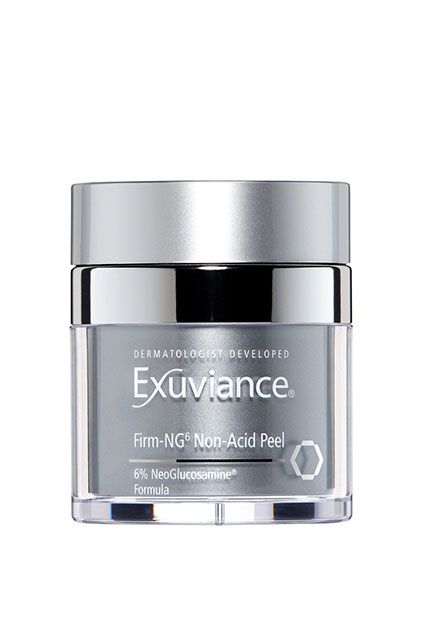 The Non-Acid Peel

Chemical peels are now kinder than ever, yet for some, the mere mention of "acid" will forever evoke fear — and
SATC
flashbacks (
beef carpaccio!
). Herein lies the appeal of the Exuviance Firm-NG6 Non-Acid Peel. In lieu of acids, it relies on NeoGlucosamine, a patented amino sugar, which enhances cell turnover, and has anti-inflammatory and antioxidant properties, says King.
Its effect is comparable to that of glycolic acid, but it's M.O. is different: "It has more to do with controlling adhesion — preventing dead cells from clinging — than destroying cells, which is why it's not irritating," explains cosmetic chemist Ni'Kita Wilson. However, she adds, while glycolic acid works on contact, glucosamine takes a little longer to perform.
Peer-reviewed research also suggests that the molecule can "improve hyperpigmentation by inhibiting tyrosinase, a key enzyme in the production of melanin," adds cosmetic chemist Kelly Dobos.
Exuviance Firm-NG6 Non-Acid Peel, $68, available at Exuviance.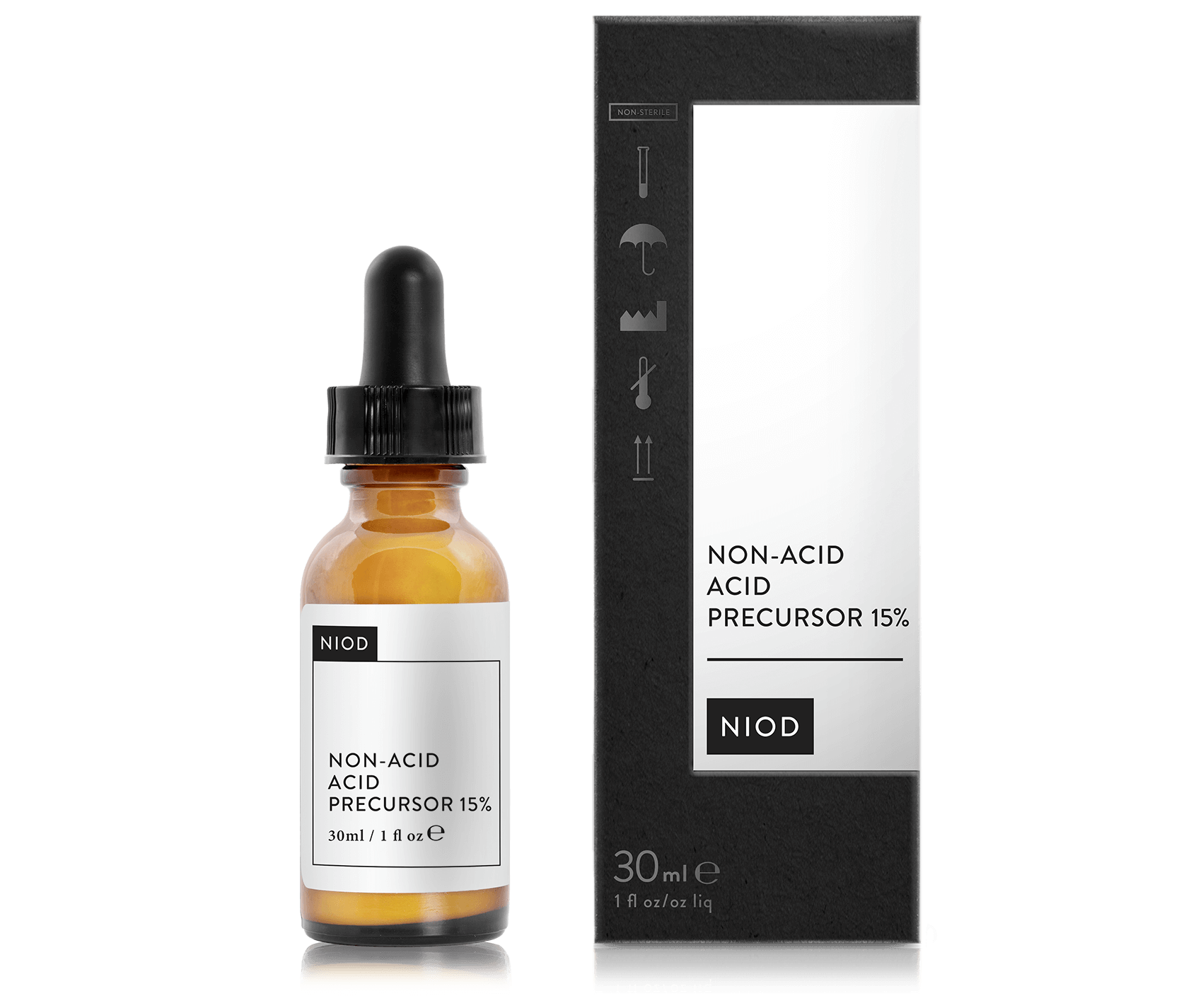 What we have here is a non-acidic alternative to acid, which only sounds complicated. In layman's terms, that just means this innovative formula eschews retinoids and direct acids (like AHA and BHA) that can be irritating to skin in favor of fermented probiotic bacteria and amino isolates that resurface skin and help encourage cell turnover without the redness and inflammation associated with exfoliating acids.
NIOD Non-Acid Acid Precursor 15%, $55, available at NIOD.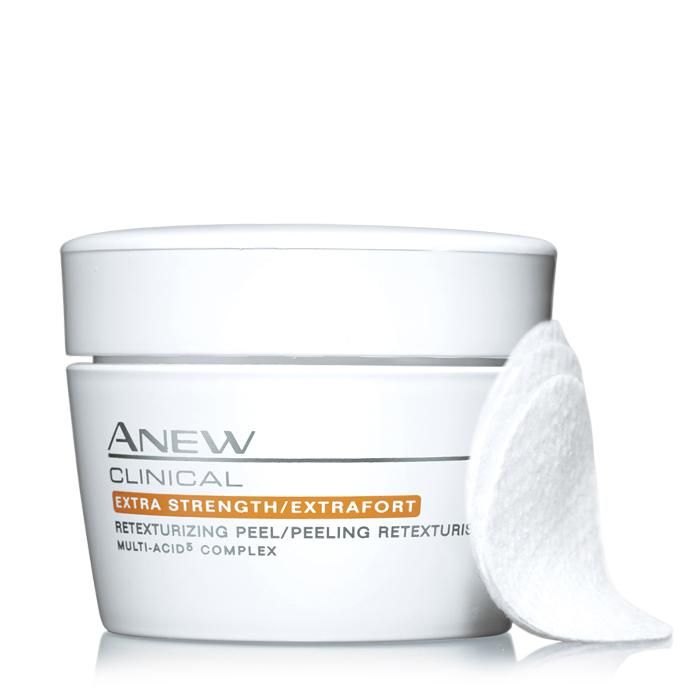 Multi-Acid Cocktails
If a glycolic peel is like a shot of liquor — a single potent dose — then the new blended peels derms are buzzing about are the equivalent of cocktail, the strong stuff mixed with other ingredients to ease the bite. Both get the job done, but as New York dermatologist Jeannette Graf, M.D. explains, "By using multiple low-strength acids together, blended peels can target several issues at once — usually without irritation."
Wise to the perks, skin-care companies are borrowing this in-office technology for home peels. Avon just intensified its famous peel pads by swapping out straight glycolic for a proprietary blend of acids (plus a penetration enhancer) to create the Anew Clinical Extra Strength Retexturizing Peel. "The original formula gave professional results," says Dr. Graf, "So I'd expect a rather strong effect from this updated blend." To counter could-be side effects, the peel includes hyaluronic acid, honey, aloe, glycerin, and a myriad of plant extracts.
Avon Anew Clinical Extra Strength Retexturizing Peel, $21.99, available at Avon.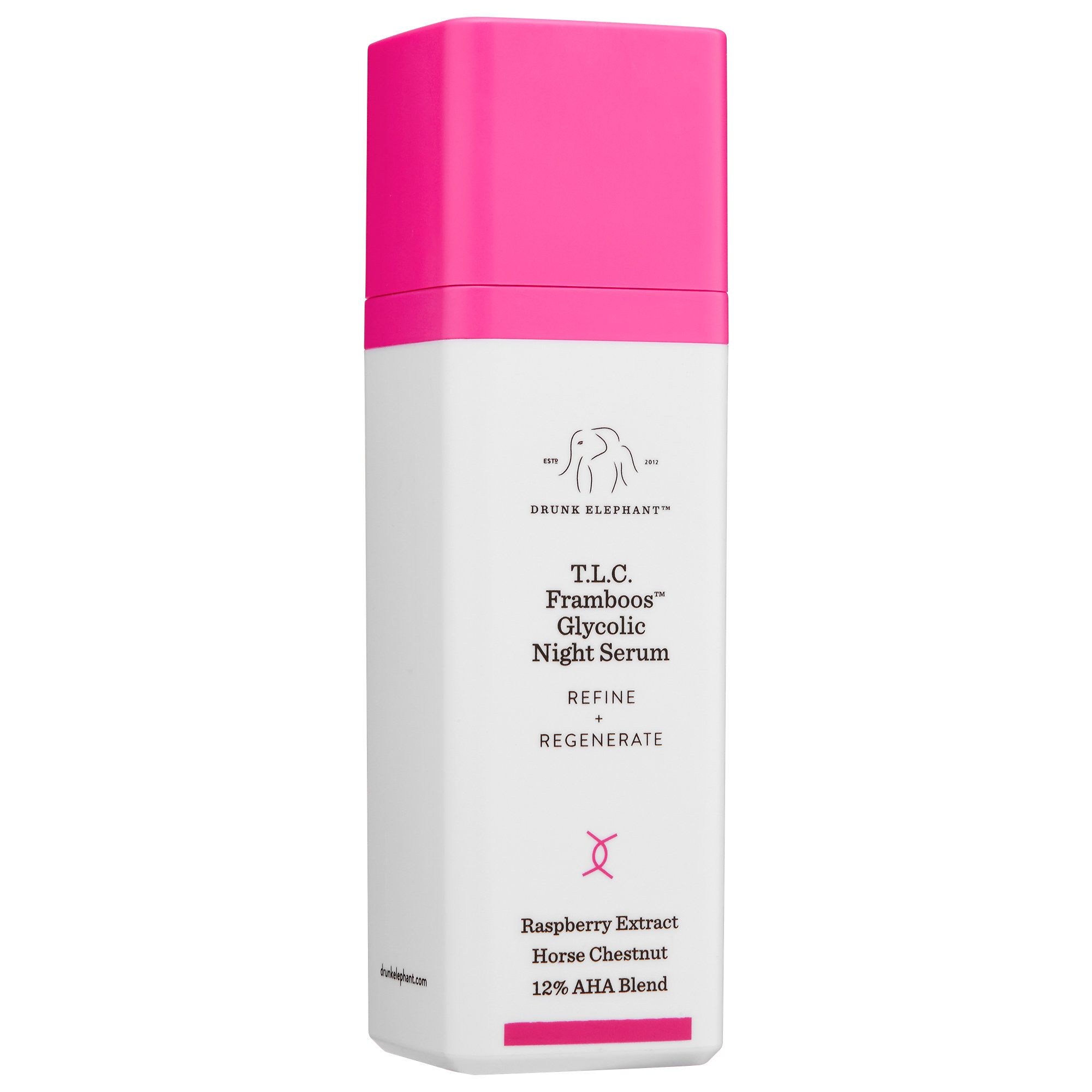 This editor-favorite overnight serum packs the power of a peel into a dose of 12% glycolic acid fused with lactic, tartaric, citric, and salicylic acids — and thwarts stinging and flakes with cactus enzymes and white tea.
Drunk Elephant T.L.C. Framboos Glycolic Night Serum, $90, available at Sephora.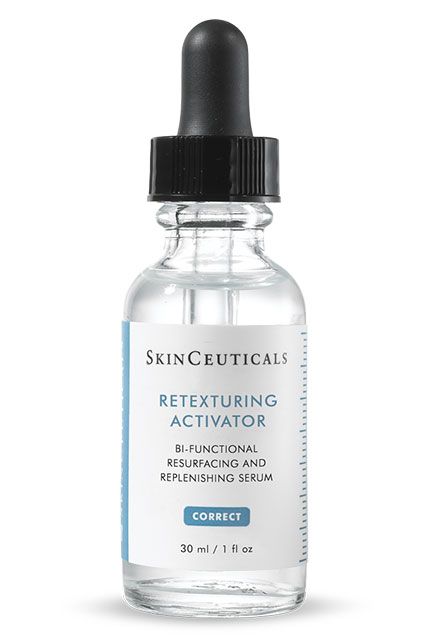 Nightly Micro-Peel Serums

Setting the bar for daily resurfacing serums since its inception in '09, SkinCeuticals Retexturing Activator lightly smooths skin with a compound of hydroxyethyl urea and aminosulfonic acid. "The urea portion is a potent humectant that draws moisture in, causing the skin to swell, and allowing for better penetration of the acid, which promotes shedding of dead cells," explains Wilson. The formula heads off irritation with kombucha (a tea-derived antioxidant) and hydrating hyaluronic acid. When used twice a day, it's proven to work as well as a daily dose of 20% glycolic acid.
Now new micro-peels are giving the classic serum some healthy competition. While formulary specifics are proprietary, "The pH of a micro-peel is likely to be higher than a traditional home peel, and the level of acids lower, so they're gentler and cause a more gradual removal of dead skin cells," says Wilson.
This is why they're made to be worn overnight: "They need that extended contact time to get the same effect as a regular peel," says cosmetic chemist Jim Hammer. New York City dermatologist Ellen Marmur, M.D., warns against combining micro-peels with other acids or enzymes though, as "Doubling up can multiply the chemical exfoliation and backfire on your skin." Instead, top your micro-peel with a simple moisturizer, like Skin Medica Dermal Repair Cream or Pond's Cold Cream.
SkinCeuticals Retexturing Activator, $80, available at SkinCeuticals.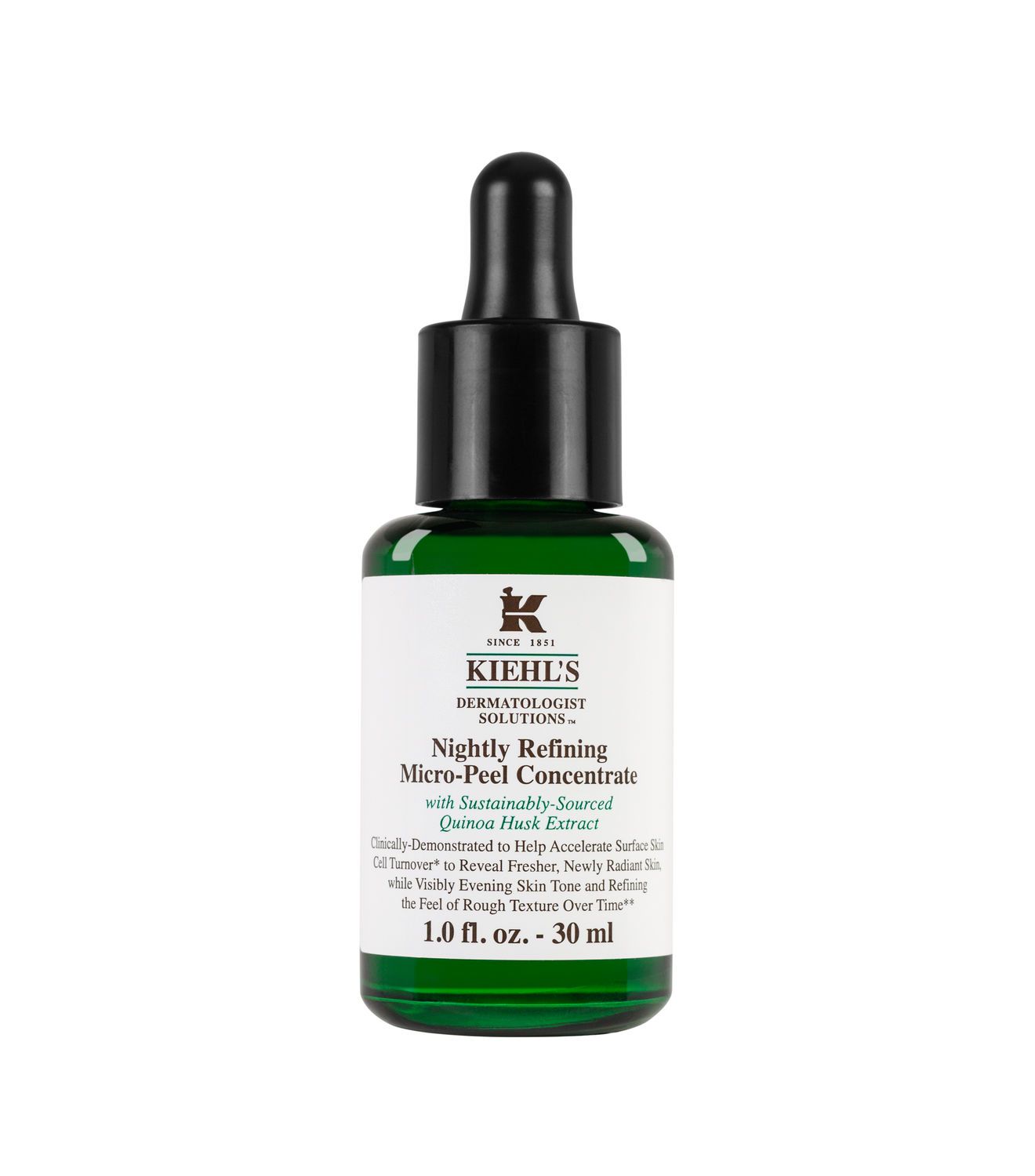 This lightweight serum stars quinoa-husk extract and a supporting cast of fruit acids, phytic acid, and calming cactus extract, and has also been shown to be as effective as 20% glycolic — but a lot less irksome.
Kiehl's Nightly Refining Micro-Peel Concentrate, $54, available at Kiehl's.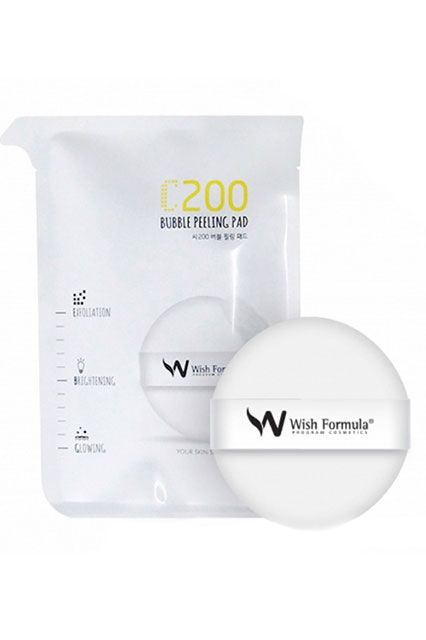 Resurfacing Peptides and Probiotics

Don't call it a fad: The
bacteria-in-skin-care movement
has been growing steadily for nearly a decade, and lately even more potential benefits are coming to light. The latest: exfoliation via fermentation. As New York City dermatologist
Whitney Bowe, M.D.
explains, "Many fermented ingredients are acidic, which means they can dissolve dead skin cells." Acidity also helps repair the skin barrier, she adds, which can lead to an overall boost in hydration and reduction in irritation.
Lee tipped us off to Wish Formula Squish & Bubble Mesh Mask, a sweet-smelling buffing pad pre-loaded with AHAs, fermented botanicals, and vitamin C — served up sheet-mask style in a protective foil pouch. In other probiotic formulas, you'll also see mention of biofermented oligopeptide. "It's derived from yeast, giving it the power to gently remove dead skin cells and brighten the complexion at the same time," says Dr. Graf.
Intriguing stuff, for sure, but we should note: Some remain skeptical of topical probiotics. "The complications of using live cultures in cosmetics are numerous, including their ability to survive manufacturing conditions and storage," notes Dobos. "While conceptually, working with good microbes that cover our skin makes sense, the jury is still out on whether or not this approach has real benefits."
Wish Formula Squish-and-Bubble Mesh Mask, $7, available at Glow Recipe.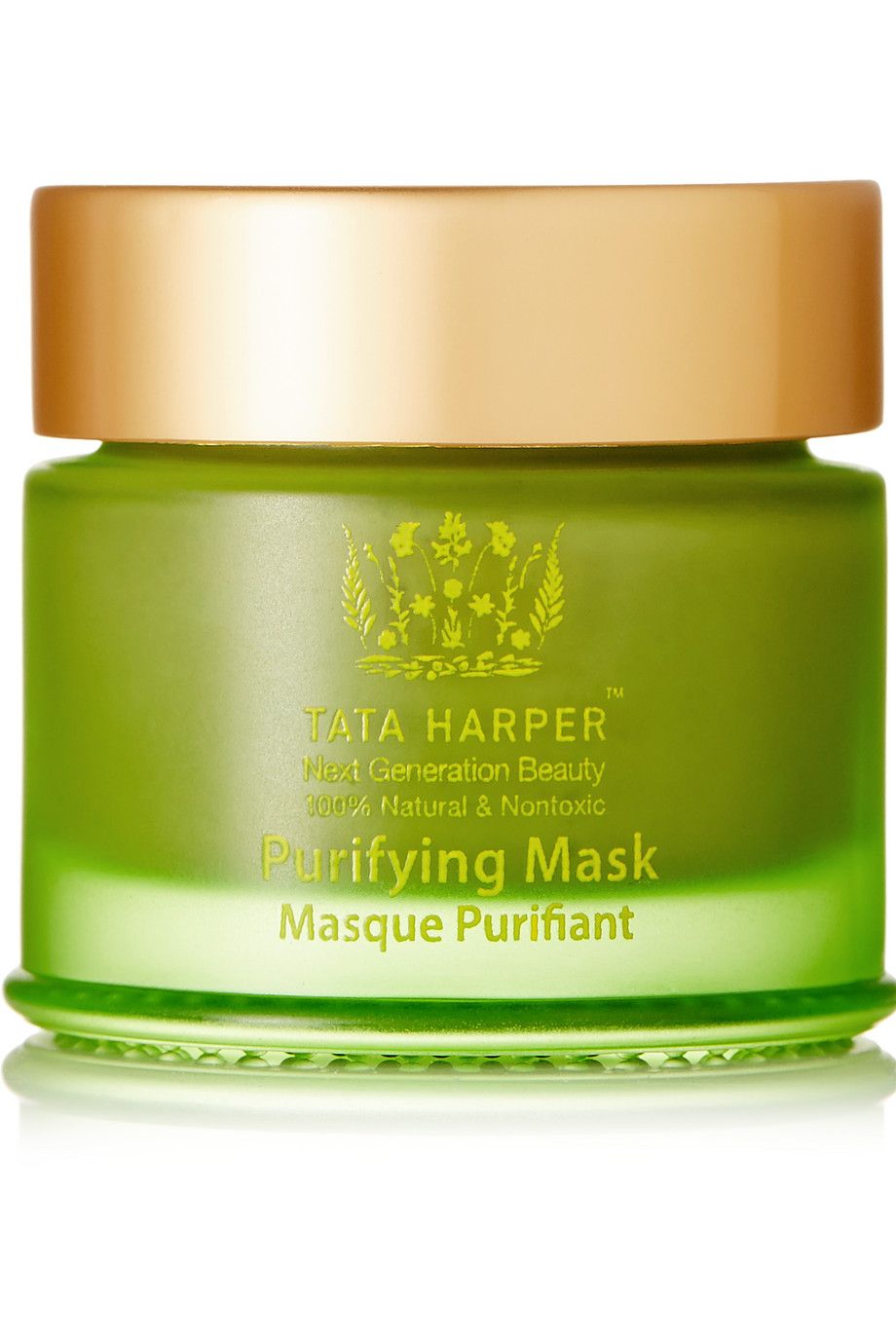 Teeming with deep-cleansing yogurt peptides and willow-bark extract, this intense detoxifying mask aims to root out pollutants from pores, clarifying skin and shutting down inflammation.
Tata Harper Purifying Mask, $65, available at Net-a-Porter.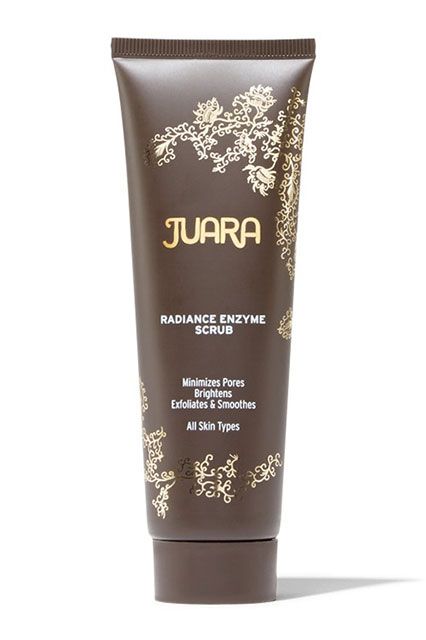 Natural Enzymes

Apples and rice are sprouting up in many modern exfoliators, as "Both contain low levels of protease, an enzyme that provides slow, gentle exfoliation," says Hammer. Since it's weaker than its ubiquitous cousins culled from pineapple and papaya, it's typically combined with other buffers. Juara Enzyme Radiance Scrub blends green-apple enzyme with bamboo and jojoba beads into a superfine silt, while
Suki Bio-Active Purifying Face Serum
mixes apple enzymes and salicylic acid to target dullness and clogged pores.
In the cultish cleansing powders from Tatcha, Josie Maran, Amarte, and Dermalogica, rice enzymes are a hero ingredient, but get an assist from mild fruit extracts and natural grains, like argan-shell powder and cornstarch. These powders are ultra-silky, "and you can change their texture by adding more or less water to mollify or intensify their buffing effect," notes Alicia Yoon of Peach & Lily.
Juara Radiance Enzyme Scrub, $38, available at Juara.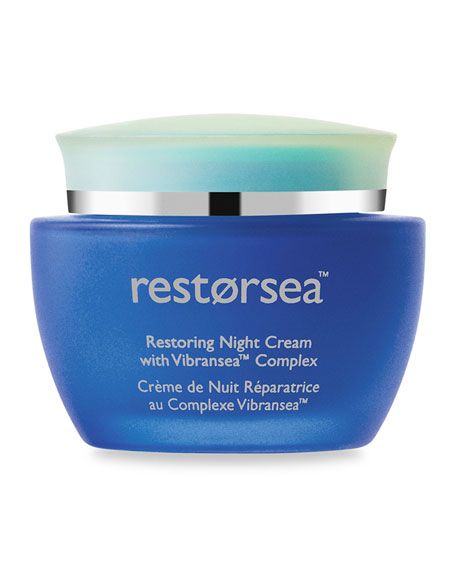 Another hot-now enzyme, hydrolyzed roe, is released by baby salmon as they break free from their eggs (found in Restorsea products, it's patented as Aquabeautine XL). "It has two components: a protein and an exfoliant," explains Joely Kaufman, M.D. When applied to skin, "The protein attaches itself to dead cells and acts as a target for the exfoliant. When the dead cells are gone, the exfoliant stops working."
While Dr. Kaufman likes roe as an alternative to traditional chemical sloughers, like retinol or AHAs, she also recommends using it with them to heighten their benefits: "Many times, I have patients use the hydrolyzed roe twice a day and then add in a retinoid once a week," she says.
Restorsea Restoring Night Cream, $175, available at Restorsea.
Click HERE to read more from Refinery29


Loading ...