If Microsoft can make Windows 8 desktop work as well as Windows Phone 8 they will be out of trouble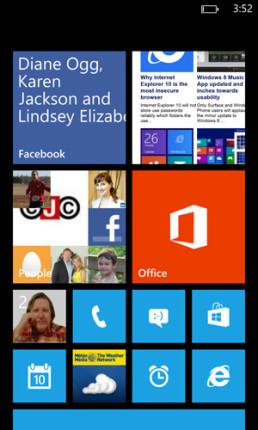 If Microsoft can make Windows 8 desktop work as well as Windows Phone 8 they would not be in trouble.
The 920 is blazing fast, has a large enough screen and feels better than Windows 8 on the desktop. It's actually smooth.
The Lumia 920 phone with Office 365 – especially Outlook – keeps me away from the computer most of the time unless I need to write a story or edit pics.
The only downside is that Nokia and Rogers Wireless have inadequate customer service on warranty issues. The 920 started spontaneously turning itself off and Rogers would not replace it, sending it back to Nokia for 2-3 weeks. This is a known problem reported on the internet and Nokia's website.
I skipped to overpriced Windows 8 Surface RT / Pro debacle. Instead I sprung for a premium Windows Phone – the Nokia Lumia 920.
Outlook 365 which is a great mobile client – all your mail in one in-box and synced with the server. I know IMAP is supposed to sync email, but I can't get iPhone mail to stop showing mail that is already dealt with somewhere else.
Office 365 varies from mildly interesting to not workable.
Excel is a disaster on the Windows Phone – there is supposed to be a magic way to edit the tiny, tiny cells but it has eluded Microsoft Support and me. You can look but don't touch the cell. Do not copy protect the Excel workbooks or they will not open, a la SkyDrive summer of 2012.
Word is better but I would not try a big writing project.
For reading mail, the news, social media check up and sundry other tasks we do, Windows Phone does it all.
I am not a big app person. Windows Phone 8 has Facebook, Twitter and the other usual social media. It has a flashlight but does not have Peterson's iStrobosoft, the best guitar tuner I can find.
Other than that, Windows Phone 8 is better than my Nexus 7 which is slow and has bad Wi-Fi connectivity. Update on the Nexus 7 – Android 4.2 has fixed some of the speed problems.
Windows Phone 8 Most on the Lumia 920 is the most fun device yet. It beats the ATIV S hands down.