Nokia 1520 is not free anymore it's now $449 $549 off contract
Microsoft is running one of the most bizarre and frustrating marketing campaigns with its 12 Days Before Christmas.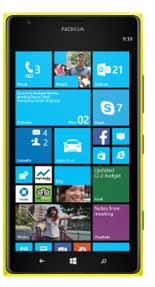 Nokia 1520 6″ Windows Phone 8
Today's deal was supposed to be a free Nokia Lumia 1520, the new 6″ super-sized smartphone. MICROSOFT 12 DAYS OF DEALS LEAKED
That deal got cancelled somewhere between yesterday and today. The Microsoft "deal" price is a $200 price cut from retail for the same phone.
Shop 12 Days of Deals at Microsoft! New limited quantity door buster deal each day at 7 AM PST. Available while supplies last.

UPDATE – Try to keep up with the twists and turns on this deal – the $99 deal was re-instated at 10:20 AM about but at retail stores only. "In-store only: Get the Lumia 1520 with a new 2-year contract for only $99. Find your store"
If you aren't one of the first few Microsoft Store buyers to snag a Lumia for $449, you can get an on-contract AT&T 1520 for $129 from $130 to $629, any day any time.
The $449 deal only applies to US customers. In Canada the deal of the day is Fit Bit Wireless Activity Trackers for $39.99.
AT&T Nokia Lumia 1520 missing features
The AT&T version of the Lumia 1520 is limited to 16GB of memory storage. Other carriers are selling the 32GB version as well.
AT&T also omits Lumia wireless charging, a feature that I use and like. After using wireless charging, it seems cumbersome to have to plug a cable in to the Apple iPad Air, Kindle Fire HD, Nexus 7 and other tablets.
Nokia Lumia 1520 both a phone and tablet
The Nokia Lumia 1520 is one of the new 6″ smartphones that is almost a tablet. While some people might not like the extra inch of screen in their hands, it may kill two birds with one stone. You don't need a tablet.
Windows Phone 8 is a better version of Windows 8.1 than the small 8″ tablet version since it was designed for small screens. Windows Phone 8 is very fast and has all the benefits of Windows 8 such as Office 365, live tiles and Microsoft Store apps.
The Lumia 1520 also has a 20MP camera and the best audio recording system in all tablets and smartphones. NOKIA LAUNCHING MUSIC VIDEO SMARTPHONE
Microsoft's 12 Days of Deals is one of the worst run Holiday sales of the season and will not likely improve Microsoft's customer relations. It seems odd that Microsoft who are struggling to capture sales from Apple and Android phones would shoot themselves in the foot over what must be small change for the giant corporation.
By Stephen Pate, NJN Network