This article was last updated on May 27, 2022
Canada:

Oye! Times readers Get FREE $30 to spend on Amazon, Walmart…
USA:

Oye! Times readers Get FREE $30 to spend on Amazon, Walmart…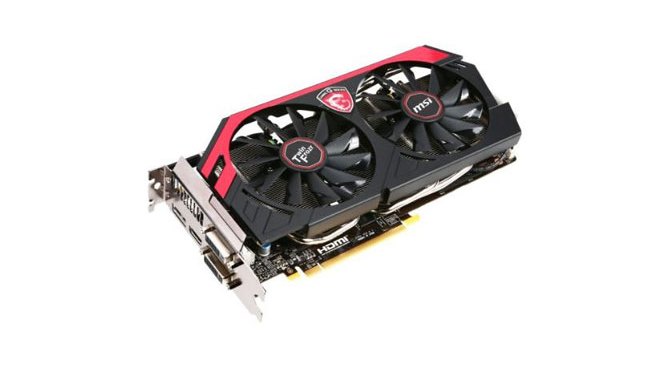 Replacing your video card for better performance can be fun but expensive – here are some top picks
By Stephen Pate – A video card can last the life of your computer or go poof in a second. My Nvidia GTX560 died this summer on a hot day and I was faced with replacing it. It cost $400 when I built the computer 2.5 years ago.
Luckily I had a GTX460 in a box that could be swapped in for the emergency but that's a slower card.

The number of cards available is huge with new and expensive cards shipping every 90 days. In the end, I picked a MSI NVIDIA GeForce GTX 760 2GB GDDR5 video card for $219 from Amazon.com.
In making the choice I read Tom's Hardware and all the reviews on sites like Amazon.com to get reader feedback.
In the end, the replacement card cost half what I paid 2.5 years ago and I got better performance with the new card.
To pick the right card for you, consider what you need, how you will use the card and the computer it will be in with a few questions. –
Will the card be used for gaming, desktop computing, engineering or video and photo editing? – In my case, I use Adobe CS5 Photoshop and Premiere which uses CUDA technology for video card processing. Only NVIDIA supports that. Games also have unique needs.
How much memory do you need? 1GB of video memory is the baseline but video editing can take 2GB to 4GB.
How wide is the memory bus? – 256-bit memory is faster than 196-bit and 128-bit.
How fast is the processor? Faster is better except if the memory bus is slower.
What's the maximum screen resolution? – most people are happy with 1920 x 1080 or HD but the newer standard is 2560 or even 4K video. Think of the future.
Does the card need power? – some cards need 1 or 2 x 12-volt connections to the power supply. Make sure you have the recommended power for some of the more expensive cards.
Is the card double PCI(e) bus? – some cards take 2 PCI(e) slots.
Is the card quiet? – a video card used in a DAW – digital audio workstation – should not be above 35 dB.
Is the card open or closed? – closed cards can be harder to keep cool (as I learned when mine overheated).
All of these things can get confusing and there are compromises about cost. Almost any video card above $100 will beat the performance of the built-in Intel video processor on your computer so it may pay you to upgrade.
In the end, its a compromise between what you would like and your budget. That's how I decided on the MSI NVIDIA GeForce GTX 760 2GB GDDR5 video card – it has 2 GB of VRAM, 256-bit memory bus for speed and the 760 class NVIDIA processor and CUDA that is one step below the top, or was until the latest and greatest was released.
My computer is much faster than it was before and video editing is smoother. I can render H.264 videos for upload to YouTube is less than half the time it took on the burned out card. Studio 1 has an extensive discussion of the best cards for Adobe processing. Even that is a bit out of date but the principles are accurate.
Tom's Hardware
Tom's Hardware does extensive testing of cards for gaming and here are their top picks for this winter. Even these choices can boil down to a few things like power, money and throwing the dart at the wall.
Note that Tom's Hardware like Radeon cards which is a poor recommendation if you are video editing or using Adobe software that needs NVIDIA CUDA. Prices change frequently so these prices are accurate as of publication.
Best Entry Level Cards
EVGA GeForce GT 730 1GB GDDR5 64bit DVI/HDMI/VGA Low Profile Graphics Card 01G-P3-3731-KR $75.90.
MSI AMD Radeon HD 7770 1GB GDDR5 DVI/HDMI/DisplayPort PCI-Express Video Card R7770-PMD1GD5 $84.67.
Best PCI Express (PCIe) Card For $120
Gigabyte R7 260X GDDR5-1GB 2xDVI/HDMI/DP OC Graphics Card (GV-R726XOC-1GD) – $99.99.
Fastest Card Without A Power Input
EVGA GeForce GTX 750Ti with G-SYNC Support 2GB GDDR5 128bit, Dual-Link, DVI-I, HDMI, DP Graphics Card (02G-P4-3751-KR) – $119.99.
Best PCI Express (PCIe) Card For ~$165
MSI AMD Radeon R9 270X Gaming 2GB GDDR5 2DVI/HDMI/DisplayPort PCI-Express Video Card – $179.99.
Best PCI Express (PCIe) Card For ~$200
Sapphire Radeon R9 280 3GB GDDR5 DVI-I/DVI-D/HDMI/DP Dual-X with PCI-Express Graphics Card Boost 11230-00-20G– $199.99.
Best PCI Express (PCIe) Card For ~$270
MSI Computer Corp. AMD Radeon R9 290 Gaming OC 4GB GDDR5 2DVI/HDMI/DisplayPort PCI-Express Video Card R9 290 GAMING 4G – $279.99.
Best PCI Express (PCIe) Card For ~$330
Zotac Zotac GeForce GTX 970 4GB GDDR5 PCI Express 3.0 HDMI DVI DisplayPort SLI Ready Graphics Card ZT-90101-10P Graphics Cards ZT-90101-10P – $389.
When you get close to deciding on your best card, check all the specs one more time especially the power supply, slot and output specifications. You don't want to be disappointed when the video card arrives.
Follow me on Twitter at @sdpate or on Facebook at NJN Network, OyeTimes and IMA News Buzz. You can also subscribe and automatically receive notifications of new stories by email. We do not share your email with advertisers. The subscription form is on this page in the left and right columns.
4.5 / 5 stars
By Stephen Pate, NJN Network
You can publish this article on your website as long as you provide a link back to this page.