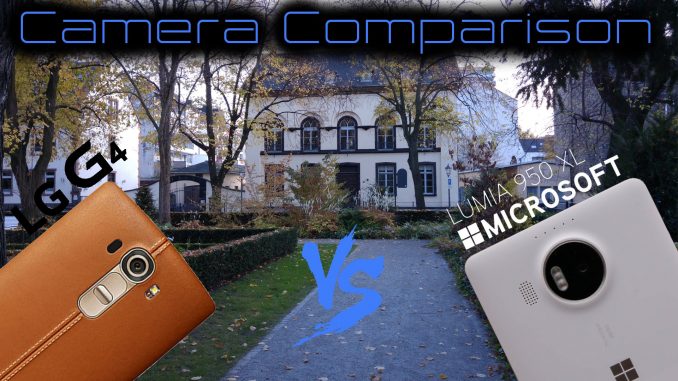 This article was last updated on May 27, 2022
Canada:

Oye! Times readers Get FREE $30 to spend on Amazon, Walmart…
USA:

Oye! Times readers Get FREE $30 to spend on Amazon, Walmart…
A Germany website demonstrates how far smartphone video has come with 4K comparison of latest LG and Lumia models
By Stephen Pate – Smartphone photo and video cameras have killed the point-and-shoot camera market for years. Whole Apple just introduced 4K high-resolution video this year, several Android and Windows Phones have had 4K video for 2 years.
As the video from superHDview shows, the addition of 4K video sets these smartphones above many expensive DSLR's for quick videos. It is extremely rare to find an expensive DSLR that has 4K video.
DXOMARK recently rated the LG G4 5th best smartphone camera ahead of the iPhone 6S at 9th place. This is not unusual since Apple may be the most popular brand but it is rarely the best.
The Microsoft Lumia 950XL is a yet unreleased smartphone expected late November 2015. The test done by superHDview must have been a pre-release version of the phone.
It's easy to forget that these videos were taken with a smartphone. Each 4K video has its strength and weaknesses. The LG has a surer auto-focus, but is less stable and has a blueish cast. The Microsoft Lumia 950XL is less saturated, tends to be better in low light, and demonstrates a bit of hunting in auto-focus.
Certainly either camera would please its owner for amateur photography.
The biggest challenge for most of us is to see the video in full 4K. You need a 4K monitor like the ASUS PB278Q 27&Prime (in Canada ) to see the full detail, although the videos look stunning in 1080P. At this point, the cameras are ahead of most people's computers and TV.
There is no direct comparison on this site with the iPhone 6s but you might find the Samsung G6 and iPhone 6S comparison interesting. Both videos show slight shake and auto-focus problems but Apple presents a more pleasing result, probably with better software processing.
4K video is the next thing. With prices of 4K TV's in the $1,000 range, expect to see more people taking one home this holiday season. There may not be many movies or TV programs in 4K but new smartphone owners will be creating their own videos to watch in high-definition. The results are stunning.
By Stephen Pate, NJN Network
You can publish this article on your website as long as you provide a link back to this page.