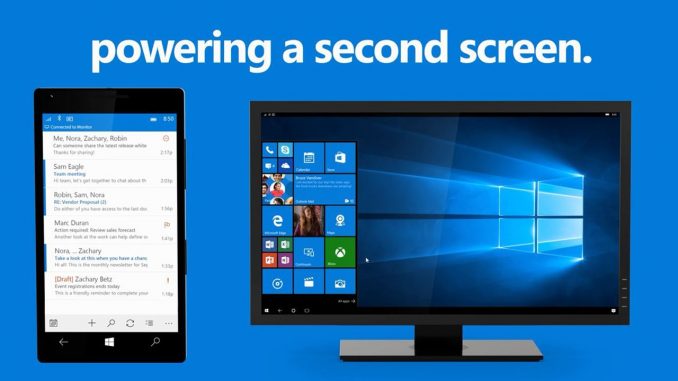 This article was last updated on May 27, 2022
Canada:

Oye! Times readers Get FREE $30 to spend on Amazon, Walmart…
USA:

Oye! Times readers Get FREE $30 to spend on Amazon, Walmart…

Microsoft is climbing back into the ring with the Lumia 950 – the long wait for a flag-ship Windows phone is over
By Stephen Pate – Microsoft's new flagship Lumia 950 smartphone with Windows 10 Mobile is a welcome upgrade from Windows 8 with a bigger, brighter and better phone.
Sporting new hardware and software, the 5.2&Prime Lumia 950 is one of two new high-end smartphones from Microsoft. It's just all-around better than anything in the Windows phone market yet.
What I like about the Lumia 950 is that it delivers on the promise of Windows integration, can be customized to your tastes, integrates with Microsoft Office and OneDrive and has all the apps I need.
What I don't like is that Microsoft waited so long to deliver these phones, the almost finished feel to Windows 10 Mobile and lingering questions about Microsoft's commitment to smartphones.
I will also be reviewing the larger Lumia 950 XL it's 5.7&Prime sibling before the New Year. By the way, Windows Phone is dead. The new operating system is Windows 10 Mobile and it runs the same OS as your desktop/laptop/tablet.
Bigger and brighter
The Lumia 950 has a vivid and bright display for videos and photos, that is equal to the Samsung S6 with the same AMOLED screen. The 5.2&Prime display has 2560 x 1440 pixels resolution with a density of 564 pixels per inch (PPI).
That's 19% larger, 268% higher resolution and 73% higher pixel density than an iPhone 6s. Having a better screen is not likely to convince an Apple iPhone user to switch but the larger, higher resolution screen will reward users with a better experience.
Here's a quick comparison of the Lumia 950 with the iPhone 6s and Galaxy 6.
| | | | |
| --- | --- | --- | --- |
| | Lumia 950 | iPhone 6s | Galaxy 6 |
| Screen | 5.2&Prime | 4.7&Prime | 5.1&Prime |
| Resolution | 2560 x 1440 | 1334 x 750 | 2560 x 1440 |
| PPI | 564 | 326 | 577 |
| RAM | 3 GB | 2 GB | 3 GB |
| Storage | 32 GB | 16 GB | 32 GB |
| SD Upgrade | 200 GB | no | No |
| Battery | 3000 mAh | 1715 mAh | 2550 mAh |
| Removable | Yes | No | No |
| Back Camera | 20 MP | 12 MP | 16 MP |
| Front Camera | 5 MP | 5 MP | 5 MP |
| Video | 4K | 4K | 4K |
| OIS | Yes | No | OIS |
| Base US $ | $549 | $649 | $498 |
| Price w/128 GB | $599 | $849 | $849 |
Full specifications on the Lumia 950 are found on the Microsoft site.

Windows 10 integration
With the Lumia 950, Microsoft has delivered on the promise of one operating system across phones, tablets and desktops. If you are using Windows 10 computer or tablet, the start screen looks identical to the Lumia 950 start screen.

The Lumia 10 can share the same themes, common apps, logins, passwords and favorites among other resources. Login to your Microsoft account on the phone and the login applies to all Microsoft linked resources like Office, OneDrive, Skype, support sites etc.
Microsoft manages the login to your Microsoft account on separate ultra-secure servers. You can also enable two-factor authentication for more security, if some slight inconvenience when using the phone for the first time.
The Lumia 950 has Continuum a new feature that turns the phone into a small computer. Microsoft calls it a computer in your pocket. The Continuum dock connects the Lumia 950 to a monitor or a TV with HDMI and becomes in effect a portable computer.
Continuum is so new that most journalists covering Windows 10 Mobile are flummoxed. They can't figure out how it will be useful so there is some negative buzz. I guess they are waiting for Apple to bring it out with the iPhone 8 or 9, just kidding.
I think Continuum is a game changer. Say you are going on a short trip and only want to check Outlook, perhaps edit an Excel spreadsheet, give a PowerPoint presentation and come home. All of that can be done on your phone without a tablet or laptop to carry with the Continuum Display Dock.
You can watch movies, play games, check Facebook, Skype home to your partner and family – all the things you expect from a smartphone. Just bring the $100 Continuum block and a Lumia 950 or 950 XL. That is cool.
There are a few restrictions on what Continuum can do. It can work as a phone and a computer simultaneously. However, the computer session is limited to one program or app at a time and runs only Universal Apps. Microsoft Office is a Universal App. OneDrive, Skype and Groove music are Universal Apps. Microsoft is trying to convince other developers to jump on board the Universal App train which means their apps are compatible with everything that runs Windows 10. That's very powerful.
Customization
The Windows 10 Mobile start screen has Live Tiles not icons to launch apps. Live Tiles can be any one of three sizes and some of them display information like the current weather, new emails, messages or new calls, recent pictures and the music being played in Groove.
With Live Tiles I glance quickly at the home screen and decide what apps to launch. Apple has added something similar in Force Touch which partly displays new emails, such as, when the icon is lightly touched. I prefer Live Tiles since the information is there at a glance. Not all apps are Live which keeps the start screen from being too busy.
The Lumia 950, like any Windows 10 Mobile device, can be customized to express your own tastes. You can change the start screen and the background. For example, my lock screen is my daughter playing with two of the grandchildren. The background is any picture cool I take or find on the internet.
That's normal on a phone but what's new is the ability to change the color scheme including making the tiles more or less transparent. For example, the three different home screens are the same except I quickly change the transparency to none, 50% and 100% on a sliding control. This is not hard. It's very easy to do.
In the illustration, the start screen on the left has no transparency and the one on the right is 100% transparency.

You can hide the background or allow a graduated amount to show. On Reddit there are examples of how creative people get with the start screen. They give you ideas of how much it can be customized.
I can also change the size of the text, choose a dark or light theme, and the phone's color scheme. The personalization is better than any other phone OS.
Microsoft Office, OneDrive and Skype
I planned to upgrade my Lumia 920 this year for an iPhone 6s Plus or a Samsung Galaxy Edge. Both of them are cool phones with great features and camera. Microsoft was taking forever to release the Lumia 950 and 950 XL. Now that I have the phones, it's not even a question if I will go Apple or Android. The question is the 5.2&Prime Lumia 950 or the 5.7&Prime Lumia 950 XL.
Microsoft has released mobile versions of Outlook, Excel, Word, PowerPoint and other Office apps on Apple OIS, Android and Windows 10 Mobile. The difference, for me, is the integration of Office, OneDrive and Microsoft Account on the Lumia 950 is tighter. The workflow approaches the level of these apps on the desktop.
Hello Login

Lumia 950 Hello uses an infrared camera that scans your iris to unlock the phone. That doesn't impresses me much since I don't like locked devices. I turned off the fingerprint scanner on my iPad's. I find it annoying that I have to hold the phone to my face before it will unlock. If you like that sort of thing, it's very high-tech but still in beta.
Memory and Speed
The Lumia 950 comes with 3 GB of RAM which is standard in top-of-the-line phones like the Galaxy S6 but again 50% more than an iPhone 6s.
Storage memory for photos, videos and apps is 32 GB which is equal to the Galaxy and double the iPhone 6s. The Lumia is expandable to 200 GB with a relatively inexpensive MicroSD card. You need plenty of storage space with the phones taking 4-6 MB photos and 4K videos,
Samsung used to have an SD card slot but now forces customers to make a memory decision when you buy which is more profitable for them not you. Both Apple and Samsung cost $250 more than the cost of the Lumia 950 with 128 GB.
The Lumia 950 feels very fast to me. I don't wait for anything. Apps open quickly and the phone is very responsive. From a user perception I compared it to the iPhone 6, iPad Air and the new speed demon the iPad Pro.
I found a video on YouTube that indicates the Lumia 950 slightly slower than Samsung. The iPhone 6s wins all the speed tests which is logical since the display is smaller, with 268% fewer pixels and 73% lower resolution.
Replaceable Battery and Fast Charge
The Lumia 950 has a 3000 mAh replaceable batter, slightly larger than the Samsung and 75% larger than the iPhone. On a run down test of playing YouTube videos without pause over Bluetooth, the battery lasted 6 hours. In normal use, the battery lasts all day.
The Lumia 950 continues to use Qi wireless charging which I love. I just drop the phone on the charger, keeping one on my night table and one on my desk. The 950 will charge with the DT-900 901, or DT-903 wireless charger (in Canada)

. Microsoft recommend the DT-904 wireless charger, which is not shipping yet.
Using a USB-C charger, the Lumia 950 will restore 50% of the charge in one hour, which is helpful in you're in a rush to refresh the battery. Tried it and fast charging works.
Microsoft has made dozens of little feature improvements like fast charging to make the Lumia 950 a pleasure in everyday use.
The Lumia 950 has a poly carbonate shell that some critics don't like. Apple and Samsung are sporting thin, aluminum shells. Thinner is a good selling feature in the store but not much value when the battery is too small and you can't use the phone all day. I've had Lumia poly carbonate phones for 3 years and never broken one.
There are a lot of Samsung, iPhone and a few Sony phones in our family of 10 children. They all have had broken screens or backs, some twice, which tells me iPhones, Samsung and Sony phones are more fragile. On the other hand, I ran over my Lumia 920 with my 250 LB wheelchair and it "took the licking and kept on ticking."
Camera and video
Photo quality has always been a Lumia strong point although the competition is catching up. Realistically any decent DSLR or point-and-shoot is going to capture better photographs. My 3-year-old Panasonic DMC-ZS20 with 40x zoom can run circles around any smartphone camera. That being said, like most people I capture more family moments with my smartphone because it's always with me.
The Lumia 950 takes gorgeous, highly detailed 5 to 6 MB photographs. I've compared the Lumia 950 images to the iPhone 6s and Galaxy 6. To me the Lumia 950 photos are more detailed and accurate. Some people like the color and saturation of the Apple or Samsung phones but it's clear they don't capture the picture as accurately.
The Lumia 950 takes gorgeous 4K videos which are equal to or better than the competitive products. Check on YouTube for people who went to the trouble to compare them. It's amazing that your phone can take high-resolution 4K videos and your DSLR can't.
Don't be put off by videos taken while people walk. That's a hopeless test. If you want motion videos, get a Steadicam Smoothee or similar stabilizer.
Live Images, similar to Live Photos, take a short video and you can pick the best shot or watch the Live part on your Windows 10 computer or tablet. That's a cool feature that takes you by surprise. Photos and video sync automatically to your OneDrive account.
If you want to study the Lumia photography results, go to the gsmarena photo comparison tool where you can compare the 950 to any two other smartphones.
What's not to like
Double tap to bring the phone to life from Windows 8.1 is gone. Touch the start button is just as easy; however, the 950 on button is right in the spot where my thumb likes to land. I had to train myself to not touch it or else the phone gets turned off.
Microsoft sent a dual SIM model which I didn't order. Unless you need two SIM cards it's not much use.
Microsoft took so long to deliver both these new phones and Windows 10 Mobile they lost half their North American market share. That indicates some indifference to the phone business along with writing off their $7 billion investment in Nokia. What does it mean? I don't know but it makes customers and developers nervous. Is Microsoft hanging a going-out-of-the-phone business sign?
On the other hand, the new Lumia 950 and 950 XL are solid top-flight devices and Windows 10 Mobile is finally out sporting a great interface and unique features like Hello and Continuum.
Like many Windows Phone users, I needed a new phone this year and almost gave up and switched to Android or Apple iOS. I probably should have but now I'm glad I waited since the Lumia 950 / 950 XL are excellent devices and Windows 10 Mobile works very well.
While I have an iPad Air and Pro as media consumption devices, my work environment is and always has been Windows. Keeping Windows on the phone is an advantage for me. Microsoft is betting that tens of millions of others will get the same message. So far, the Lumia 950 and 950 XL have been sold out so if you want one it's a matter of being vigilant.
Available from the Microsoft Store for $649 unlocked and AT&T for $19.97 on contract in the United States. In Canada

only from the Microsoft Store. The Microsoft Store sells unlocked phones which only need a nano-SIM and your own carrier package. That's how I roll and it saves me money. In the rest of the world, check your local Microsoft Store Worldwide or local carrier.
Updated – What phone will I keep? Lumia 950 or Lumia 950 XL

. I like the larger screen of the 950 XL slightly more and they are giving the Continuum Display Dock as free bonus while supplies last until January 31, 2016. That's not a real saving since I will need new wireless chargers. The Lumia 950 is more convenient to carry around and use. Time will tell. I'll let you know.
If you can't get enough about the Lumia 950, GSMARENA has one of the best and most objective reviews of the Lumia 950 on the internet, all 11 pages.
By Stephen Pate, NJN Network
You can publish this article on your website as long as you provide a link back to this page.