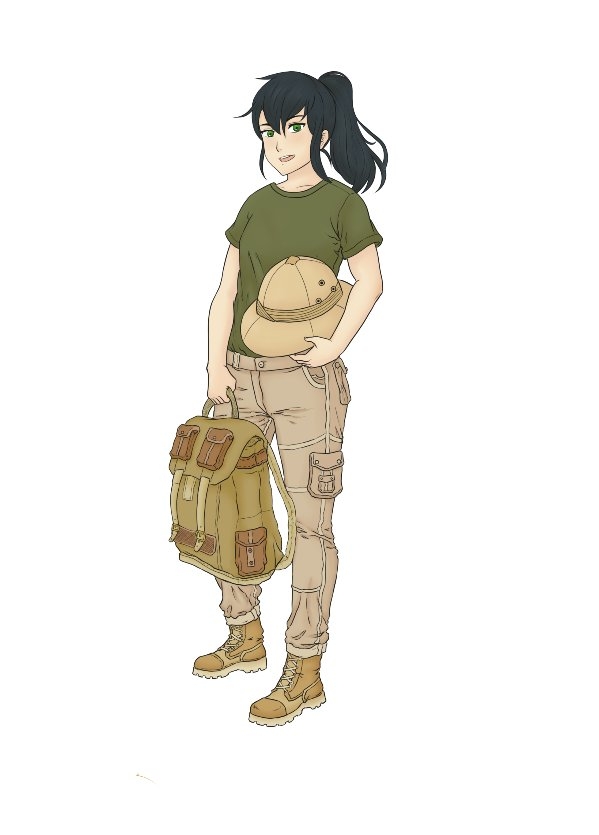 The presiding Pandit is very accommodating. The Maharani interprets for you and you ask what information is available for you on that day. The Pandit disappears into a back room and emerges with a stack of papers, very old and crinkled. He begins to read them and the Maharani continues to interpret. There is some family information that you find interesting, but then he gets into telling that a plot to steal a valuable and venerable historical object will be uncovered and staved off by a visitor, a woman from far away. This is very odd, you think to yourself, but the Maharani assures you that the book is real and well respected. It is one of India's phenomenon that no one questions.
You return to the palace for a good night sleep before returning to London. In the morning, saying goodbye to your fathers friends, the Maharaja and his wife, is very difficult and you wish you could stay much longer, but you must get the sword back to the museum within the next forty-eight hours for the installation ceremony. The Maharajah's royal guard boards the plane with you and assures you a safe and uneventful settling in.
It looks like you'll be the only one in First Class on the return trip. That's odd. But, after you get comfortable, a man, takes the seat across the isle from you. So, you won't be alone, after all. You don't recognize him, but you have that certain feeling and although he is well disguised, you know that it is The Fox. You act normal, however, and even engage in typical polite talk so that he has no idea that you recognize him. You know that for the length of the trip, you and the sword are safe. Even if he gets his hands on it, there is no place for him to go. It is when the plane is landing that you will have to be ever on your guard.
Dinner on board is uneventful. Every once in a while you feel him looking at you, but you ignore him by keeping your attention to your in-flight film. At ten o'clock, you turn everything off and set your mind to staying awake while appearing to be asleep. The plane will land in the morning and you know that he will have to remove you as the only obstacle to getting the sword out of the plane. You know he must be planning to murder you.
You feel the tension in the room. You ring the bell and tell the flight attendant that you need to take your sleeping pill and ask if she can please bring you water. You make sure that he hears you. You also make sure that you he doesn't see that what you are taking is plain generic aspirin. You won't have to wait long to find out what he plans to do, which is probably snuff you out with his pillow so that it will look like you died in your sleep, while he sneaks off the plane in the chaos of the crowd with the sword. It's going to be a long and restless night, that's for sure. You are due to land at 4 A.M.
Just past 3 A.M. as anticipated, you don't have to wait long for him to quietly creep over to you. You are able to see him in the dimly lit cabin with a pillow in his hands thinking that the sleeping pills are doing their job. Ready to snuff you out, he bends over you with the pillow when you flip up your elbow to strike under his nose, grab his left wrist, give it a nasty twist, strike him hard with your right palm to the right side of the head and knock him out, clear and cold.
He falls to the floor of the cabin with a thud. You ring for the flight attendant and she in turn notifies the captain. The Fox, now looking more like a drowned rat, bound and gagged so he cannot make a sound so as not to frighten the other passengers. He spends the rest of the trip on the floor, where he can't see you and where none of the passengers have to look at him. You also delight in pulling off his glued on beard which stings quite a bit, except that because he's gagged, no one can hear him cry out. You have little mercy for him. Further, you can proudly say that you have bagged The Fox, something that the entire force of INGOT was not able to do. Wait until you call Jack!
You deliver the sword to the museum on time, and you deliver your unwanted friend over to the police, who deliver him to INGOT. Everything is perfectly tidy. The case is closed and you are back on the plane tomorrow for a reunion with Grace, Diesel, Jack and the Fam. All is good.
The 9 Escapdes of Jade Charme Agent Extraordinaire by Khadi Madama is available at Amazon.com
For more information about Jade Charme please follow her on Facebook:
https://www.facebook.com/The-9-Escapades-of-Jade-Charme-Agent-Extraordinaire-403172016520692/