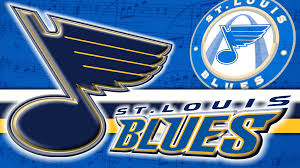 St. Louis Blues score early in OT to beat Toronto Maple Leafs 2-1. Here is the game summary and highlights from the game played on Thursday, February 9, 2017
| | | | | | |
| --- | --- | --- | --- | --- | --- |
| | 1 | 2 | 3 | OT | FINAL |
| ST. LOUIS | 1 | 0 | 0 | 1 | 2 |
| TORONTO | 0 | 1 | 0 | 0 | 1 |
GAME SUMMARY | EVENT SUMMARY | FACEOFF SUMMARY

ON THE SCORESHEET
Morgan Rielly registered his second goal of the season at 18:56 of the second period. Both of Rielly's goals this season have come on home ice. He has registered points (1-3-4) in three consecutive games.
William Nylander picked up his 22nd assist of the season on Rielly's second period goal. Nylander has five points (4 goals, 1 assist) over his last four games.
Nazem Kadri
picked up his 20
th
assist of the season with the secondary assist on Rielly's goal. Kadri has assists (4) in four consecutive games.
Frederik Andersen stopped 38 shots in the overtime loss.
SHOTS FIRED
The Maple Leafs were outshot by the Blues by a 40-32 margin in all situations and by a 38-31 margin at 5-on-5.
St. Louis had a 65-63 lead in shot attempts in all situations and a 62-59 lead in shot attempts at 5-on-5.
James van Riemsdyk led the Maple Leafs with five shots on goal.
Connor Brown, Nazem Kadri, William Nylander and James van Riemsdyk each registered six shot attempts.
HOME SWEET HOME
The Maple Leafs are 13-8-4 at home this season and 5-11 in overtime.
Toronto's all-time record is 93-93-25-4 in 215 games against the Blues and 60-31-11-4 record in games played in Toronto.
Toronto is 8-8-6 against the Western Conference this season and 3-5-3 against the Central Division.
Tonight's attendance was 18,920.
MAPLE LEAFS LEADERS
| | |
| --- | --- |
| Faceoff Wins | 13 (Bozak) |
| Faceoff Win Percentage | 68% (Bozak) |
| Hits | 6 (Martin) |
| Blocked Shots | 2 (Four players tied) |
| Takeaways | 1 (Bozak, Kadri, Marner) |
| TOI | 21:52 (Zaitsev) |
| Power Play TOI | 1:22 (Zaitsev) |
| Shorthanded TOI | 1:14 (Hyman) |
| Shifts | 29 (Gardiner) |
| 5-on-5 Shot Attempt Percentage | 68.8% (Polak – 22 for, 10 against) |
OF NOTE…
Toronto is 5-12-6 when their opponent scores first.
The Maple Leafs are now 1-11-3 when trailing after a period and 3-2-3 when tied after two periods this season
Toronto has a 16-7-5 record when outshot by their opponent.
Tyler Bozak was 9-for-9 (100%) on faceoffs in the offensive zone at 5-on-5 tonight.
Nazem Kadri had a 5-on-5 shot attempt percentage of 58.3 percent (21 for, 15 against), while starting 25 percent of his shifts in the offensive zone.
Matt Martin's six hits led all skaters in tonight's game.
Nikita Soshnikov did not play tonight due to an upper-body injury.
UPCOMING GAMES:
Saturday, Feb. 11 vs. Buffalo Sabres, 7:00 p.m. (Hockey Night in Canada, FAN 590)
Tuesday, Feb. 14 vs. New York Islanders, 7:30 p.m. (TSN 4, FAN 590)
Wednesday, Feb. 15 at Columbus Blue Jackets, 7:00 p.m. (Sportsnet, TSN 1050)
Saturday, Feb. 18 vs. Ottawa Senators, 7:00 p.m. (Hockey Night in Canada, FAN 590)
Sunday, Feb. 19 at Carolina Hurricanes, 7:30 p.m. (Sportsnet, TSN 1050)
POSTGAME QUOTES:
HEAD COACH MIKE BABCOCK
On tonight's game:
Obviously we could have had a better scheme [in overtime]. We could have stayed up with him at the end there and tighter on him instead of standing still. Obviously [Tarasenko] is a good player. They were better, more competitive and stronger than us in the first period. I thought we really adjusted. I didn't think there was a lot of space, I liked the way [St. Louis] played to be honest with you. I thought our team got better and better. We turned the puck over – we lost too many battles early and then as we got more and more competitive I thought we did a lot of good things and got a lot better. In the end it was a good game for us and a good point – I would have liked to have two like anyone who came to watch tonight. That didn't happen. But, I liked the way we played, I liked how we got better, I liked the kind of game it was instead of racing to 10. It was real hockey.
On Andersen's performance:
I thought he was good, I thought he was good for sure. I thought we boxed out better around him and made better plays around him. I thought we did the same for [McElhinney] the other night. When they're shooting it in an empty net because you don't have people it's hard for a goalie. I think when you play right your goalie looks way better. In the end it looks like he makes way more big saves but they're reasonable saves.
On Soshnikov's status:
He couldn't go so we'll see what tomorrow brings.
On Leivo's play:
I thought he did fine. I thought their line had a lot of offensive time, they didn't turn the puck over. He's got some details in his game that he has to work on and that's natural. He's hardly played at all. He'll get those details over time.
FREDERIK ANDERSEN (38 SAVES)
On the team's performance:
I thought we got better and better as we came into the game. The third period was unreal. We had some chances to win it, unfortunately we couldn't get it past them.
On if he felt back in a groove tonight:
I sort of do, yeah. I felt good tonight and feel better with the puck. Unfortunately we didn't get a win.
On making a save in the first period from a point shot while on the ice:
I got knocked down a little bit battling for the puck and I didn't have time to get up and get set. It was just one of those things.
JOSH LEIVO (11:21 TOI)
On his line's play:
I thought our line was moving and getting in on forechecks. It was unfortunate we couldn't get the two points.
On if it was tough to get back into game action:
The first period was a little tough but they're skating us so I'm ready whenever. I've just got to keep getting prepared and when my name is called, be ready.
On if it has been difficult waiting for an opportunity to play:
A little bit, but with the group of guys we have I think they keep you light and positive. In the room it's nice and I'm just trying to stay positive.
On when he found out he'd play tonight's game:
This morning.
On the Blues controlling the game early:
They're a good, solid team. They're tight in the zone and it was tough to get pucks to the net at the beginning of the game. I felt that as we kept playing we kept getting better and better. By the third I thought we dominated.
On Andersen's play:
He was great. It was unfortunate that last shot in overtime trickled by. He played great and we love having him.
On what led to the strong third period showing:
Maybe they were a little tired or something but we got jump after Rielly scored. It was just exciting and I think that's what got us going.
MITCH MARNER (4 SHOT ATTEMPTS, 14:59 TOI)
On blocking a high point shot:
I got hit in a bit of a soft spot but I was just trying to get into the lane. Maybe if that got through it would have hit someone in the head on our team. That's what we've got to do as forwards, block shots. Any way it happens, you've just got to get in the way.
On taking one point as a positive after a slow start:
Yeah, for sure. We definitely came out flat, we didn't come out the way we wanted to. I think in the second and third we played the game we wanted to and really started taking it to them. I think we're starting to be more consistent on that kind of stuff and starting from the very start. We've just got to get better with that and it'll come with time. At the same time, we have to come in here every night ready to win.
On if there's a theme to the team's slow starts:
No, obviously everyone wants to go out and try their best. Sometimes the bounces don't go our way or things happen. I think it's just staying focused and not getting frustrated with each other on the ice. I think when we do that we play our best.
On nearly scoring in alone on the goaltender in the third period:
I kind of looked up and saw the net, went to shoot it and the puck was nowhere to be found. It's a pretty crappy bounce but it happens.
MORGAN RIELLY (1 GOAL, 20:50 TOI)
On tonight's performance:
I don't think we had the start we wanted but, that being said, [Andersen] was outstanding for us and kind of kept us in there. We had times where we were rolling around offensively and creating chances, jumping on rebounds. We knew that we had it and just had to maintain it. I think we did that in the third and battled, we got chances. You want to walk out of here with two but we'll take the one point, learn from it and get ready for Saturday.
On his goal as a momentum boost for the team:
I think there was probably about 10 minutes there where we were playing good hockey. The forwards were doing a good job of holding on to the puck down low, getting pucks on net. I think that was a major momentum shifter, I don't think it was me. The team got it going there and we carried it over to the third. I thought we played good hockey in the third, we got good chances and it's just one of those nights where it wouldn't go in. We'll take the point.