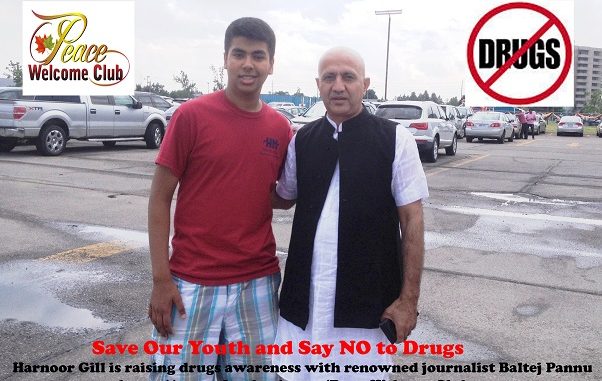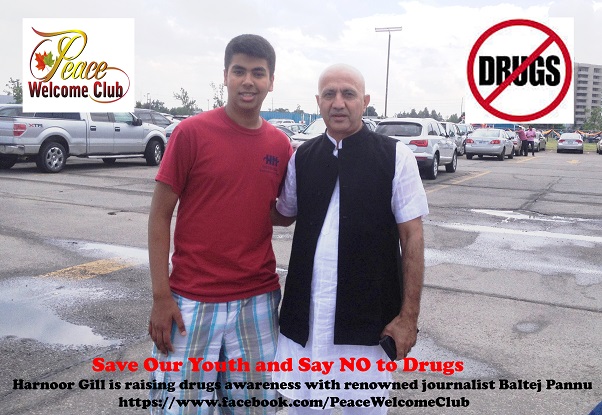 Today, I had the opportunity to meet a renowned journalist, Baltej Pannu. A fearless man who has been raising awareness on the issue of drug abuse for the last twenty years. In the last five years, Mr. Pannu has successfully created two intense documentaries regarding drug abuse and positioned it first hand in the province of Punjab. He is a bold man who intends to change the world by preventing the spread of drugs to the beautiful province of Punjab.
Pannu is a Canadian journalist that is bringing awareness to the struggle that families are going through in Punjab. Drugs have caused millions of boys and girls to die in these homes as a result of addiction. No one raises the voice to locate where the supplier is and what his/her intentions are. Life goes on with families that are miserable and are tired of hearing their children plead for money to buy drugs. However, Pannu has put his foot down to stop this endless struggle of our people.
He is following the Guru Nanak mission where his size doesn't matter but his ambitions are great and will change the face of Punjab. Pannu boldly states that if something is not done to stop the drug abuse that the youth of Punjab have been influenced to do that there will not be a next generation. The meaning behind this statement is that the health of the youth of Punjab has declined so much that the next generation cannot be born. This is an extremely sad but the truth hurts and Pannu wants to save the rest of the world from this awful fate.
Statistics in Punjab have stated that some 73.5% of the state's youth between 16 and 35 years are confirmed drug addicts. These addicts use a variety of drugs, which include raw opium, smack, heroin, and synthetic drugs like morphine, pethidine, and codeine and psychotropic substances like diazepam.[1]
As a Canadian, Pannu resides in Punjab most of his time by exploring routes to put an end to this drug link into Punjab. On the borders of Punjab, authorities do not inspect what is being brought in or out of the country resulting in the fatal spread of illicit drugs. Pannu's mission is to put a stop to this living horror in our homeland and wishes to stop the spread of it to youth residing in Canada as well. In Vancouver, the Punjabi community has grown and unfortunately some of them are a part of gangs and drug trades. Recently, a father of two children and a husband to a wife was shot in his car for not complying with gang members regarding drug matters.
It's absurd to see that nothing is being done to stop and Pannu has suggested that these terrible things are being seen right here in Brampton as well. He claims that the influence of drugs has gone so far that youth of the Punjabi community are supplying it to their friends. Drug abuse is not a joke and never has been and let's put a stop to this living horror through the Guru Nanak Mission and with Pannu's expertise.
Please visit Mr. Pannu's facebook and twitter page to support his mission on the end to stop the widespread of drug abuse among the youth of Punjab and the youth of this world!