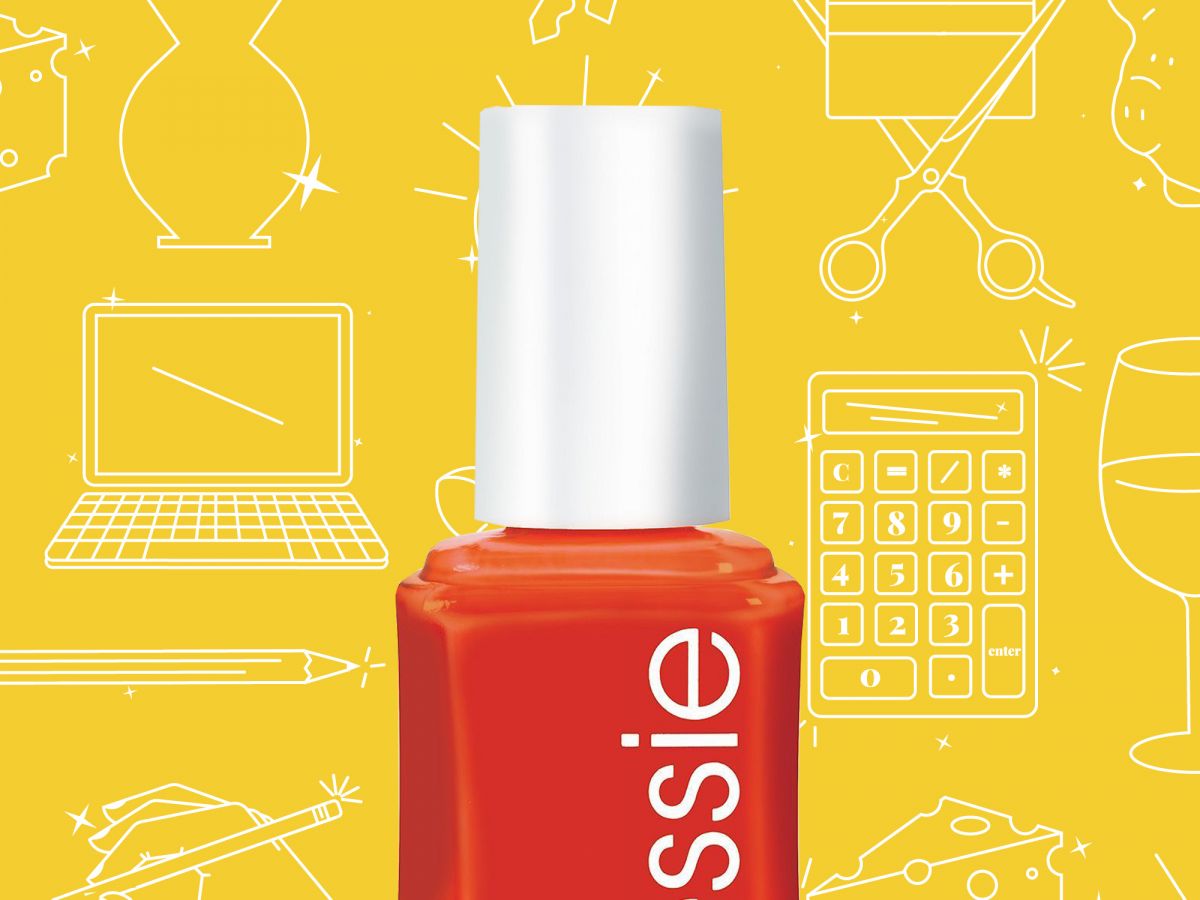 Welcome toMoney Diaries , where we're tackling what might be the last taboo facing modern working women: money. We're asking millennials how they spend their hard-earned money during a seven-day period — and we're tracking every last dollar.
Want to continue the conversation? Join our Money Diaries Facebook Group to discuss finances, share spending habits and saving advice, ask money- and career-related questions, and get access to exclusive content. It's a judgment-free zone.
Today: a program director working in public health who makes $106,000 per year and spends it some of her money this week on a mani/pedi.
Occupation: Program Director
Industry: Public Health
Age: 29
Location: New York, NY
Salary: $106,000
Paycheck Amount (2x/month): $2,444
Monthly Expenses
Rent: $1,000. (Luckily, I split the rent with bae.)
Student Loan Payment: $500 to a bunch of student loans, some of which are consolidated.
Health Insurance: $33.70
Gym membership: $165
Netflix: $12
Spotify: $14
Metrocard: $120
403(b): $83.34
Day One
4:45 a.m. — My alarm goes off, but my anticipatory nerves and excitement already woke me up a while ago. Today is the day I'd been waiting for! I've been training (that's a generous term) for the past few months for my first half marathon. The Brooklyn Half is the biggest in the country, with nearly 27,000 runners. I pop out of bed, take a quick shower to wake myself up, and make breakfast at home — a toasted whole wheat bagel with (chunky, obvi) peanut butter and sliced banana. I'm v worried about getting hungry during the race, so I also stow away a Clif Bar in the pocket of my jacket. I head out into the cold rain and swipe my MetroCard to board the 6 train for an hour commute to the start line at Grand Army Plaza.
10:30 a.m. — Ahh, sweet, cold, wet victory. Crossing the finish line was euphoric! I find my bae, M., who finished almost a half an hour before me, and we revel in our glory. We take a few selfies with our finisher medals (duh), and then over hobble to the medical tent. We're both bleeding and semi-paralyzed from the waist down, so beer seems like the only logical remedy. We head over to Coney Island Brewery and maneuver our way through the dense crowd where finishers are both celebrating and taking shelter from the rain. We order two beers and I treat ($16). First half marathon? Yes. First time drinking a beer before 11 a.m.? Classified information. Feeling accomplished, exhausted, and slightly buzzed, we make our way to the Q train and ride it from one end (Coney Island) to the other (96th street). Despite living only one block and four avenues from the train stop, we are too crippled to walk, and decide to cab it. M pays. $16
2 p.m. — Home, showered, and finally warm, I decide I'm in dire need of Chipotle. My legs are out of commission, so instead of walking, I order it on DoorDash. I have a month of free delivery, so I don't feel that guilty. $17
7 p.m. — Still couch-ridden, M. and I decide to stay in tonight. We had high hopes of post-race celebrations, but the truth is we are BEAT, and the weather isn't helping. We order burgers and fries (M. pays) and watch the NBA playoffs. I'm fast asleep by 9:30.
Daily Total: $33
Day Two
11:30 a.m. — I slowly wake up and wonder if my legs are still going to feel like cinder blocks today. M. and I are getting our medals engraved today and then going to my friend's 32nd birthday party. I walk over to our local café for an iced coffee with soy milk and proudly present my fully stamped loyalty card, which scores me a free drink. V gratifying. We hop on the bus to the NYRR Running Hub and get our medals engraved for free. Of course, I am roped into signing up for another race, which costs me $10. Tired and borderline hangry, we decide to Uber to the birthday party, which is in Tribeca. I'm so glad the driver decided to drive through Times Square on a Sunday afternoon, ugh. $25.37
3:30 p.m. — Before the party, we stop at Greenwich Street Tavern (I love this place) for a beer and some much needed food. M. and I split a buffalo chicken wrap, a shrimp wrap, fries, and the bill ($30.67 each). We get to City Vineyard and set up shop for the rest of the afternoon/evening. It's fun to catch up with friends and shower the birthday girl with love. We debate wearing our medals in hopes of free drinks, but decide against it. We alternate pay for rounds of rosé ($33), and enjoy the sunshine. $63.67
8 p.m. — The NBA playoffs are on again tonight, and we have a massive amount of leftover pasta from our pre-race carbo-loading. I heat up the leftovers and mentally prepare myself for the work week ahead.
Daily Total: $89.04
Day Three
7:30 a.m. — I wake up to my alarm and feel like I could sleep forever. I begrudgingly peel myself out of bed and into the shower. I have a glass of lemon water, as that usually helps to wake me up. Then I take salmon out of the freezer to defrost, grab a yogurt, and head out the door. When I get off the subway, I stop by the coffee shop near my office. It's a cold brew kind of day. I'm bothered that this shop charges extra for non-dairy milks, but obviously not bothered enough. I have my yogurt and coffee at my desk as I skim through emails. $4.25
1 p.m. — I'm trying to be better about not letting food go to waste, so I brought arugula I had at home to work today. I have nothing to top it with, so I go to the salad bar at the grocery store near my office to jazz it up with grilled chicken and roasted veggies. There are a few good sales, so I also buy a carton of strawberries, two Kind Bars, and a bag of snap pea crisps to keep in the office, plus teriyaki sauce to cook with tonight! $22
6 p.m. — It's beautiful outside, so I decide to go for a run in Central Park. My legs think I'm playing some sort of cruel joke on them, as they clearly have not recovered from the weekend's half marathon. I surrender to their stiffness, and instead sit in the grass and catch up on phone calls. The sun feels amazing. I go home and prepare salmon teriyaki with broccoli and brown rice for dinner. I make enough to have leftovers during the week. Then I cozy up on the couch with my current read, Sweetbitter, and M. and I watch basketball all night.
Daily Total: $26.25
Day Four
7:30 a.m. — I wake up feeling refreshed and ready to tackle the rest of the week. I have enough time to eat breakfast at home today, so I toast a whole wheat bagel and top it with peanut butter and banana, a classic combo.
9 a.m. — I stop at my usual coffee spot for a cold brew ($4.25), and I'm at my desk by 9. The race that M. and I signed up for this past weekend has a minimum fundraising requirement of $100, so I donate $10 to M.'s fundraiser. We're trying to qualify for the NYC marathon, which means we have to run a certain amount of races by the end of the year. I browse the qualifying races and sign up for two in the coming months — $68 total. $82.25
1 p.m. — Determined to finish it before it goes bad, I brought more arugula for lunch today, this time with leftover steamed broccoli and half an avocado. I pick up our laundry on my way home ($25), and instead of going to pilates as planned, I pick up Indian food. M. and I split the bill. Quite pleased with my decision, I sit on the couch chowing down on chicken tikka masala, saag paneer, and naan. The portions are huge, and now we have more leftovers for the rest of the week. $55
Daily Total: $137.25
Day Five
7 a.m. — I hustle through my morning routine and make M. some tea. He isn't feeling well, and we have plans to go the Hamptons this weekend, so I am trying my best to nurse him back to health! I hop on the train and stop at my coffee shop. I didn't have time for breakfast at home, so I grab a slice of zucchini bread in addition to my cold brew. The bread is phenomenal. I get to my desk and power through some data that I need to have ready by 12 p.m. on Friday. I have a dinner date with my best friend, J., tonight for her birthday, and I'm hoping to sneak out a bit early if I get enough done. $7.75
1:30 p.m. — I FINISH THE LAST OF MY ARUGULA! Is this what being an adult feels like? It's the small victories, I suppose. I eat my boring arugula salad at my desk and find solace in the fact that I'm going to my favorite restaurant for dinner tonight, where I shall eat like a queen. After eating, I head out to the cutest bookstore near my office so that I can get J. a birthday gift. I also need to buy thank you cards to send to friends who donated to my race fundraiser. J. has been into puzzles lately, so I get her a birthday card and an adorable New Yorker puzzle, plus thank you notes and a sympathy card for a good friend who unexpectedly lost his (very young) doggie. $42.49 later, I feel like a really good friend. $42.49
4:45 p.m. — I sneak out early and head to Soho to check out a dress at Everlane before meeting up with J. I don't love the dress, so I skip it and my bank account thanks me. I take a leisurely stroll through the charming streets of Soho until I arrive at BondST. J. arrives shortly after me and since it's so early, we're seated in large, quiet booth. How romantic! She loves the puzzle gift, and we proceed to order everything on the menu. We split the bill, and while my wallet weeps quietly, my stomach is v happy. It was really pricey for a weeknight dinner, but I justify it by telling myself that it's a special occasion and that I'm a grown @$$ woman. I hop on the 6 uptown and text M., who says he is still sick. I pop into CVS and grab cough drops for him ($5.99). We catch up and relax on the couch before I dive back into Sweetbitter and call it a night. $100.47
Daily Total: $150.71
Day Six
7 a.m. — I'm out the door by 8:20 and decide to skip the overpriced coffee this morning. I make a quick stop into the office cafeteria where I grab a coffee with soy and a toasted everything bagel with veggie cream cheese. So good. I really want to finish the project I've been working on today, so that I don't have to worry about it tomorrow. I put my head down and focus for quite a bit. No online shopping, no registering for races, just work! $4.06
2:30 p.m. — I'm not the type to "forget" to eat, but I was so in the zone today that I just realized how late it is. I finish off the strawberries I've been keeping in the fridge and nibble on a Kind Bar. I need some fresh air, so I go out for a walk. I stop at Starbucks and order a soy chai latte before heading back to work. $4.98
5 p.m. — I leave work right on time and have to run a few "errands" before the long weekend. My first stop is Sephora, where I grab Urban Decay eyeliner ($20.78). I'm tempted to buy all of the things, but I use restraint. Proud of myself, I head over the new nail salon that just opened underneath my apartment, which is so convenient! I choose my color (Clambake by Essie) and plop down in the pedicure chair with Sweetbitter. I immediately turn on the massage feature and it is pure bliss. I have been fantasizing about this moment all day. I get my toes and fingernails done and I walk out feeling renewed. The total is $39.90, plus a $6 cash tip — a bit more expensive than my usual place, but they do an impeccable job and it's very clean, so YOLO. $66.68
8 p.m. — I am starving and happy to be home. I pop the leftover Indian food into the oven (we don't have a microwave) and put on House Hunters. M. is at the gym and I am relishing in the emptiness of our adorable little apartment. I eat my dinner and fantasize about the day that I can finally go shopping for a house. Everything looks like a palace when you've lived in NYC your entire life! The things I would do for a dishwasher or a washer and dryer!
Daily Total: $75.72
Day Seven
7:30 a.m. — It's finally Friday, and I jump out of bed accordingly! It's supposed to be a beautiful day, and I have a really fun weekend planned. I make my way to the office and try to get there a little bit early, since I have every intention of leaving early this afternoon. I grab a cold brew and some seriously delicious lemon poppy raspberry bread from the coffee shop. I arrive at my desk and prepare for my 12 p.m. meeting. $7.75
1 p.m. — The meeting goes well, and I feel relieved knowing that the presentation needs very few revisions before next week's meeting. I head out and get a chicken salad wrap for lunch. I chat on the phone with a college friend who lives on the West Coast as I eat and enjoy the sunshine. $9.75
1:30 p.m. — I run over to the post office and send out my thank you cards in the mail. The whole transaction feels foreign (I'm not used to not communicating by text or email!), but I feel like a real adult. Also, stamps are expensive. I head back to the office and make an executive decision to call it a day at 3 p.m. I text M. and hope he'll get off early too so we can kick off Memorial Day weekend. $5.55
3 p.m. — I'm out the door and hop on the train home. I go home to change and grab my book, a beer, and a blanket and head over to Central Park. I lay in the sun, ice cold Brooklyn Summer Ale in hand, and finish Sweetbitter. Bliss. It's gorgeous out, and in hopes of avoiding Memorial Day weekend traffic, M. and I decide to stay in the city tonight and head to the Hamptons in the morning instead. We head over to to happy hour on the Hudson River, and we make it just in time for sunset. It's glorious. M. buys this round.
9 p.m. — Our bellies full of beer and in need of nosh, we head over to J.G. Melon for cheeseburgers and (the most delicious) cottage fries. We have a beer each and split the check ($24.28 each) before heading to a bar to watch the NBA playoffs, where we have more beer and munch on free popcorn. M. treats. The game ends, and we head over to a speakeasy for a nightcap. We both get silly drinks that are fancier than they need to be. I treat ($39). The service is awful, but the drinks are yummy. We're hitting the road early tomorrow morning, so we call it a night around 12:30 a.m. I have an Uber promotion, so I Uber us home ($5). $68.28
Daily Total: $91.33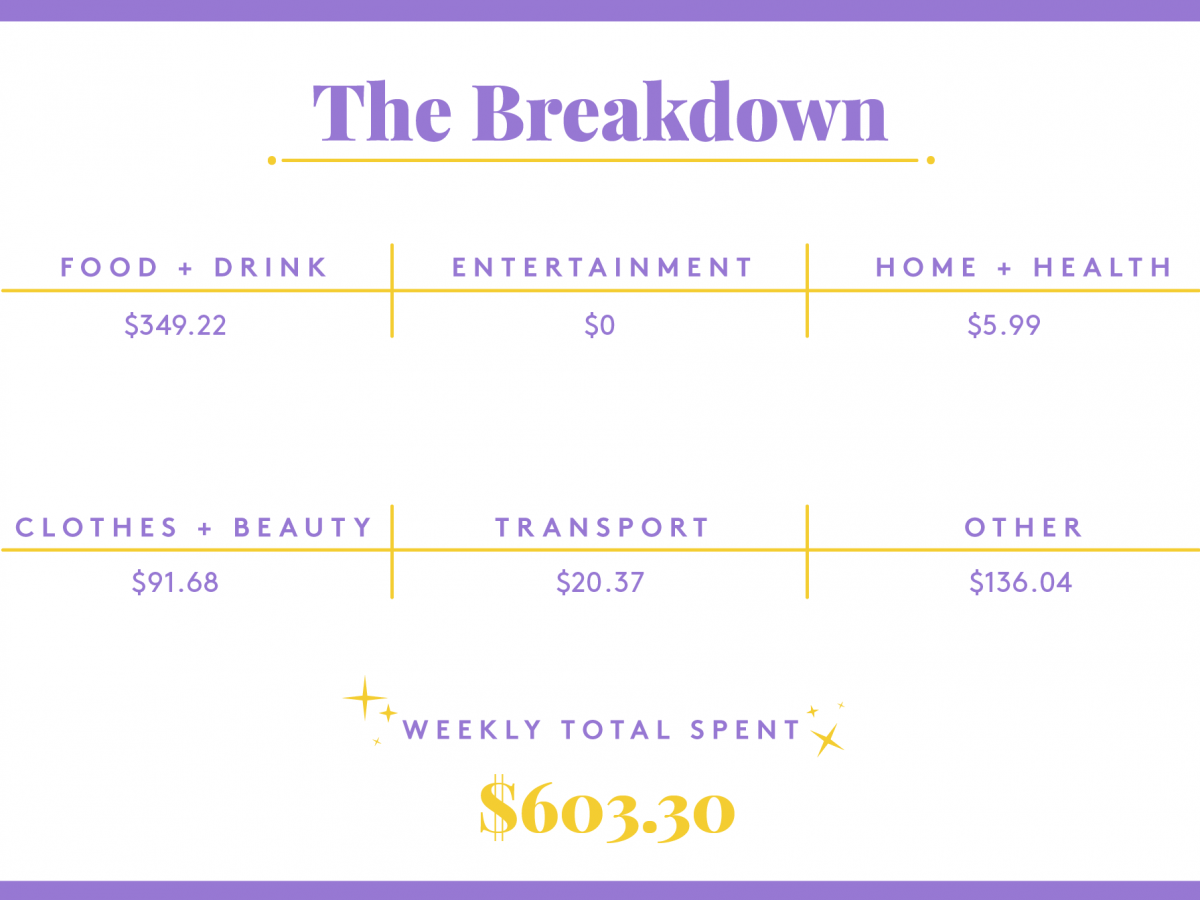 Click HERE to read more from Refinery29



Loading ...