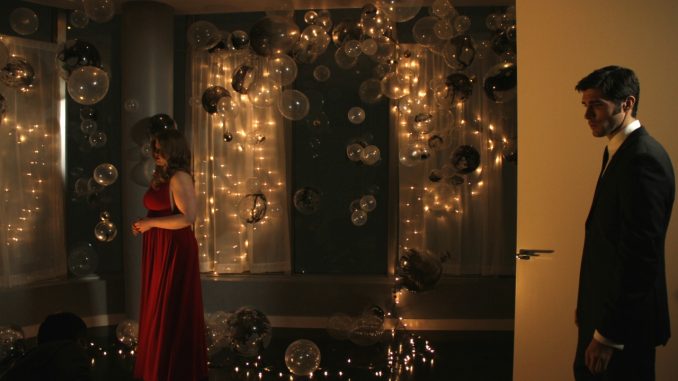 Singer songwriter Meredith Shaw is thrilled to release her latest music video "Stars" featuring actor Harmon Walsh (Gossip Girl, Law & Order, As the World Turns) and directed by Philip J Connell. With a "Hitchcock meets Mad Men" visual treatment, the video was designed to bring out the feeling in the song of longing for something that may or may not ever happen.
"The song is the moodiest one on my record, and my nickname is Muffy so Tim Chaisson's guitar player rightly coined it "muffy metal"," says Shaw with a giggle, "when the director and I sat down to talk concepts we knew we wanted the visual tone to match the sonic tone and that lead us to a Mad Men meets Hitchcock romantic thriller. We wanted to evoke a sense of danger while keeping things sexy and playing with the ideas of destiny & control."
With a story that is somewhat elusive and ethereal, it was fitting that the video was shot on Leap Day, Feb 29th – note the choice of the 29th floor elevator button in video as a homage to the once-every-four-year event. The video was shot in a 50th Floor condo high above the Toronto skyline… a feature that was prominent in the concept.
"As an artist I'm all about collaboration and with the band performance shot I thought it would be cool to ask my guitar player Kori's band Speedo Tuxedo to be in it," explains Shaw. "I've certainly benefitted from the exposure Gordie Johnson has offered me with Big Sugar; Speedo Tuxedo have just moved to Toronto from out west so I thought I'd pay it forward."
Connell has been producing and directing since 2001 through his production company Toolkit Productions, however, "Stars" was his first music video. Now in pre-production, he is currently directing a short film called Kissing Drew supported by the Ontario Arts Council.
"You may recognize my "love interest" in the video Harmon Walsh," points out Shaw, "we stole him from Gossip Girl, and yes, he is that good looking in person too. It just isn't fair."
Meredith Shaw "Stars" video:
http://youtu.be/28A8NR8rq6o
Behind the Scenes:
http://youtu.be/fFG1ykFKNws
Website:
www.meredithshaw.com