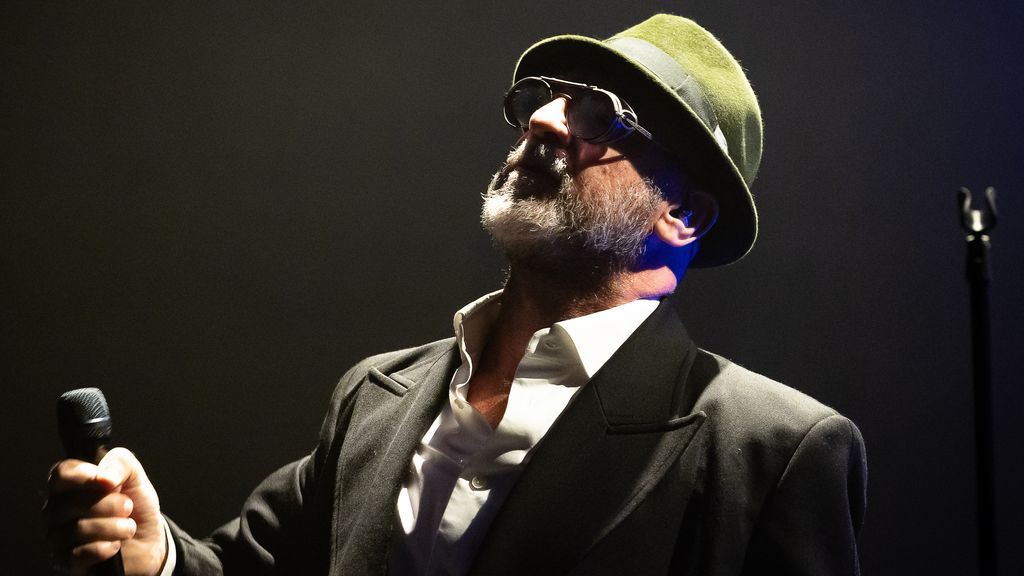 This article was last updated on November 16, 2023
Canada:

Oye! Times readers Get FREE $30 to spend on Amazon, Walmart…
USA:

Oye! Times readers Get FREE $30 to spend on Amazon, Walmart…
A silhouette looms in the center of the stage. The man slowly walks towards the microphone. His heavy breathing sounds increasingly clear. Suddenly he throws his arms up at his sides. Then the light goes on. He looks straight ahead. Applause!
As if, with his hands in the air, he is back in Manchester United's 'Theatre of Dreams' for a moment. But no, tonight Eric Cantona has to make do with a two-thirds full 'Théâtre de l'Atelier' in Paris.
For years, the Frenchman was an artist within the lines of the football field. Often brilliant, sometimes misunderstood or simply incomprehensible. The man who made United a superpower again in the 1990s, but also the man who karate-kicked a fan in the stands.
After his football career, he was a photographer for a while and then became an actor. For example, he played himself in the film 'Looking for Eric', in which – as the name suggests – the search for Cantona is central.
But here in the theater in Montmartre, near the Sacré-Coeur, the 57-year-old Cantona has been booked as a singer. Together with a pianist and a cellist, he is on the tour 'Cantona sings Eric'.
The romantic l'Atelier is the final destination of a journey that (of course) started in Manchester and reaches a thrilling conclusion via London, Dublin, Lyon, Geneva, and Marseille with three evenings in a row in Paris.
Different than the rest
"Eric is a chameleon, a complete artist," says Didier Roustan just before the start. Roustan is a famous sports journalist from France. He commented with Cantona for French TV during the 1994 World Cup and has since called himself a friend.
"He was already different as a football player. The rest liked cars, Eric liked painting. He was an actor, is now a singer and might be in the circus tomorrow. That is Eric," said Roustan.
Upon entering, visitors receive a booklet in their hands. It turns out to be about the setlist. A mixture of partly self-written French and English songs, which can be read in both languages.
"You hate me. You love me. I am only judged by myself", are pretty much the first words Cantona sings. His voice is warm and dark, the music dark and quiet. He doesn't do high pitches. Let's say that as a singer Cantona is more of a storyteller.
Nice red
His robust red shoes catch a lot of attention. Strengthened by red trousers up there again. He wears a long black coat with a white blouse underneath. A hat and glasses rest on his head.
He has the microphone in his right hand. He occasionally makes some theatrical movements with his left hand to add some force to his singing, while his right foot continuously taps the beat.
Cantona completes his setlist with dedication in less than an hour and a half. Sometimes the singing stops and he whistles for a moment. Not much happens on the fairly dark stage, apart from eight lights that change color. Cantona is in control.
Jealous friends
From one of the four water bottles, for example, that are ready for him. Later he increasingly reaches for a canteen, the contents of which are unknown. In the front row, Jules, just like Cantona, 57 years old, is amazed.
It is already the second time he has seen this show. A week earlier he met his idol in Marseille. "I brought my United shirt with his name on the back. He signed it and we had our picture taken together," says Jules. "I put it on Facebook and all my friends were jealous."
As Cantona himself sang: you either love him or you hate him. Not everyone in France can appreciate the former footballer, with all his antics.
"Here it is difficult for Eric, because he is different. And the French don't like people who are different," says his 66-year-old friend Roustan. "There is also little attention for his singing career."
Farewell without words of thanks
On stage, Cantona continues in his role as convincing storyteller. The performance ends after the sentence "And believe me, you'll never see me again". With his two musicians under his arms, Cantona receives the applause. He says goodbye with kisses. A word of thanks is not forthcoming.
The fans chat in the foyer. Although Cantona is not a born singer, they enjoyed him. Jules is already ready with his cell phone to take a second photo with his idol in one week. In vain, as it turns out.
Cantona prefers a private party on the first floor of the theater afterward. Jules doesn't get to see more than his backside, walking on a staircase, this time.
"Oh well, I've already had my climax," he says, pointing to his phone. The screen lights up. A photo appears of two Frenchmen in their sixties holding a signed football shirt. "Amazing, right?"
You can publish this article on your website as long as you provide a link back to this page.