Leonard Cohen's financial misfortune changed his Karma. Can it change ours?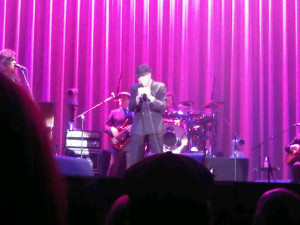 By 2006, Leonard Cohen's lifetime financial assets had been devastated by his close friend and business advisor.
Leonard Cohen's karma has changed since then, and he is spreading joy and humility to his audiences.
That spirit travels ahead of him, with him and after him. Leonard Cohen became part of my karma and I owe it all to Kijiji.
Travel that road with me for a moment.
His only choice after the financial devastation, his own personal Bernie Madoff, was to come out of a monastic semi-retirement and hit the road on the 2008-2010 World Tour.
As he begins another world tour in 2013, Cohen is an invigorated performer bringing his special magic to the world.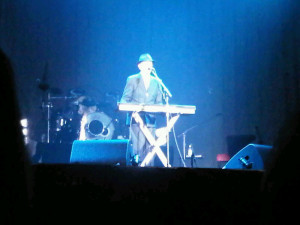 In 2013 Leonard Cohen, 78 years old, dances up the stairs onto the stage, kneeling humbly before the musicians who back him. I have never seen such a humble, appreciate performer.
His voice has rarely been better and his puckish persona is just underneath the surface of his sex, God, and death lyrics.
Last month, we fled to Halifax to get away from PEI and its claustrophobia. On Saturday morning over coffee, my wife said "Leonard Cohen is playing here tonight."
Admittedly I am not the world's biggest Leonard Cohen fan. His records can induce suicidal thoughts, as he drones on and on. I am all for sex but the sex-with-God theme tends to offend my puritanical right-wing protestant childhood.
Leonard Cohen is my wife's favorite performer. Not only does she love him but she attributes taking me to his May 2008 concert as the spiritual rebirth of our broken relationship. I didn't know that on the Saturday morning in April as I set out to get tickets, but I'm learning.
At 8 AM, the box office was closed and the only online seats were in the high nosebleed section. Remember, I am mostly confined to a wheelchair. Crutches on those high steps induces vertigo and I can't afford to fall and break my leg again.
Undaunted, I got the idea to check Kijiji. "There are tons of tickets dear!" I called out.
You could get 1 ticket almost anywhere, a smattering of $500 and $1,000 tickets and all the nosebleed section you wanted.
I spied a pair of tickets reasonably close to a wheelchair entrance and sent a request. Actually, I sent out 10 requests, and the last one was magic.

Someone with a postal code in the middle of St. Margaret's Bay had 2 $500 VIP tickets (think $1,000), 4 rows from center stage on the floor. They were the perfect tickets for anyone, especially someone in a wheelchair.
"I love your postal code," I emailed "puts you on a boat/under water smack dab in the middle of St. Margaret's Bay"
"I'd like to have them but I can't offer you anything near the price. It's better for me to be on the floor since I am disabled and can't take the stairs. I can offer you $200 – please don't be insulted."
That's a Hail Mary request and I expected no reply since another $200 offer got the terse reply "That's your problem."
In the meantime, a pair at $140 were snafued from a man in St. John's, Newfoundland. After the usual back and forth about where and how to pay, we agreed he would email the tickets and I would interact transfer the money. My wife was ecstatic and I needed a nap from the morning's excitement. This was already a fun day.
After my nap at 2:17 PM came an unexpected email.
"Hi there…It feels like I'm underwater today! I'm not insulted–I've had offers of $50.–but thanks for saying so."
"You can have them for $200 but I'm wondering if I can ask a favour..I have a seat in the first row but I have a neck injury. If that seat is too close for me, would you be able to switch with me if need be? Karen"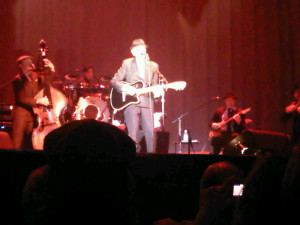 OK so I said "Oh My God" a few times. VIP tickets for $200 – 4th row dead center. My wife was now double ecstatic and there was some pretty cool swag that came with the seats. We agreed to meet Karen at one of the entrances exchanging money for gold.
I waited all afternoon but the $140 tickets didn't come until 6 pm when we were next door at dinner.
Now I had 2 pairs of tickets. I could not fink out on the St. John's guy, so I emailed him explaining my predicament. A spirit of sharing came over me and I promised to sell his tickets on the street "if he bailed me out" should the police arrest me for scalping.
There I was 30 minutes before the concert started, in my wheelchair on Brunswick Street in Halifax. The temperature was 5 C, I was wearing my daughter's cute penguin mittens with a red tartan car blanket wrapped around my legs to avoid hypothermia. Thankfully, there are no photos of my strange get-up.
"Get your Leonard Cohen tickets here! Got 2 – you need em! Two great seats only $140. You can't go wrong."
A couple passed by "You, sir, look organized. I can see two tickets already in your hand."
"Not me," he shot back with a smile. "She got the tickets months ago."
After a few minutes of scalping, they were sold and we went inside.
"You can't take that wheelchair on the floor. It's a fire hazard," said the security guard.
Incongruous as that sounds, people in wheelchairs are a fire hazard in Halifax. However, he could not break my joyfully spirit.
"No problem buddy, I got the miracle cure," I shot back and jumped out of the chair and strapped on my crutches.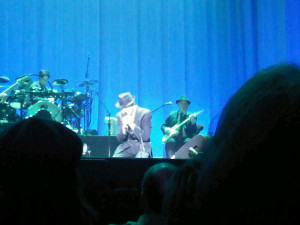 The concert was 4 hours of musical joy.
Leonard Cohen was more animated and musical at 78 years old than any of his records, and better than 2008.
He kept kneeling as he performed, before his band and before the audience.
His puckish humor flowed through the night.
I read a Rabbi's essay that it's a Jewish tradition to tell jokes at God's expense. "God told Abraham kill me a son/Abe said man you must be putting me on" in Bob Dylan's "Highway 61 Revisited" is not sacrilegious.
Peace, love, sex, humility, servitude. God man! Give me a break, I already got the message, I thought.
But I hadn't gotten enough good Karma.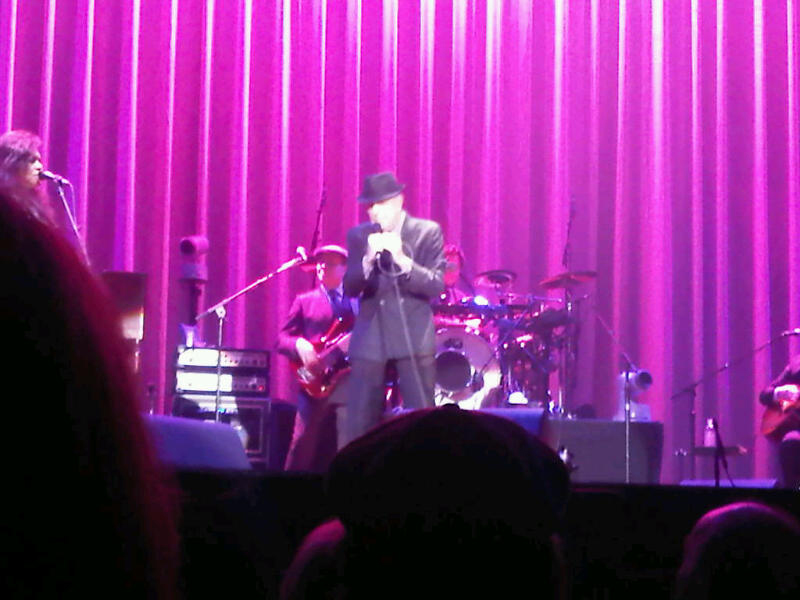 Cohen, born Jewish. is a sort of Buddhist and believes in spiritual values. I was born Jehovah's Witness, converted to Roman Catholic but it was Buddhist teachings that saved me from anger and hate 10 years ago.
Buddhism, for me, is not a religion but a way of looking at life in peace with yourself and with the world. You may have another way of reaching that peace.
I talked with Karen Van Buskirk, the generous soul who gave us the seats, before the show and during intermission. She was a lovely person and no she didn't want to trade from the front row to the 4th. Guess Leonard Cohen up close is better than a pain in the neck.
As we streamed out into the club district of Halifax at midnight, my wife heard behind us "There are a lot of old fogies out tonight. Wonder where they came from."
They didn't get the love in the club district of Halifax on Argyle Street. They missed it.
I wrote Karen and thanked her again, offering to do her a favour in the future.
She wrote me last week with these kind and wise words " Your wife may be the big Cohen fan but I bet he got another one in you.


"
"It's not often we get to experience such generosity and gratitude in one whom we pay to sing for us. There's just so much LOVE at Leonard concerts!"
"It was fun to meet and talk with you, too. I think everybody is friends at a Leonard Cohen concert. I hope he comes back soon. And, listen, if I need a favour, I'm taking you up on it!


"
Thank you Leonard Cohen. Thank you Karen VanBuskirk and thank you Kijiji for the Karma.
Despite having a new Nokia Lumia 920, I have no photos from the Cohen concert. The phone was defective and had to go back. That's another story and my Karma.