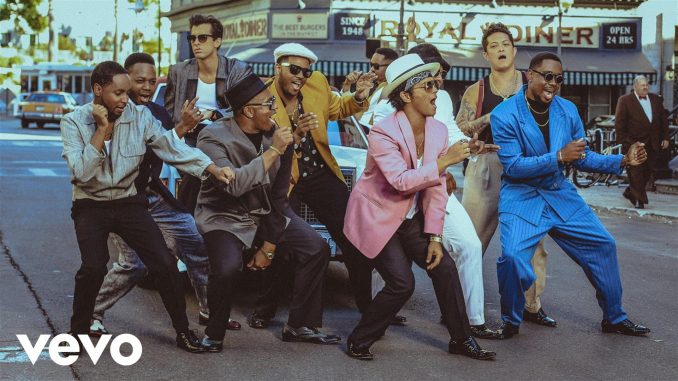 The Bruno Mars and Mark Ronson collaboration Uptown Funk is the hottest of the Hot 100 songs
By Stephen Pate – You know "Uptown Funk" is hot. It's catchy and you want to hear it to get in that mood.
The Mark Ronson song that features Bruno Mars is unassailable at #1 on the Billboard Hot 100 for the 7th week,. Even Taylor Swift can't touch it.

"Mark Ronson's "Uptown Funk!," featuring Bruno Mars, tops the Billboard Hot 100 for a seventh week, granting Mars his longest command (among his six No. 1s). Plus, Taylor Swift tallies a third top 10 from her smash album1989, "Style."" Billboard.
"Uptown Funk" has the highest sales, downloads and digital play requests of all songs and shows no signs of let up. 247 million views on YouTube – too hot!
British producer Ronson released Uptown Special in January the LP that has "Uptown Funk" and 10 other collaborations with Stevie Wonder, Mystikal, Kevin Parker, Andrew Wyatt, and Keyone Starr. "Uptown Funk" is the hottest song in the collection but the CD is funky hot. Warning – Mystikal is fascinated with MF'er which forms most of his chorus. The song is noted in iTunes as "Explicit" – I guess.
For Bruno Mars its his best showing ever, besting Locked Out of Heaven which stayed at the top for 6 weeks and Grenade which topped for 4 weeks.
Other Bruno Mars Top 1 songs were "Just the Way You Are," "Nothin' On You," and "When I Was Your Man."
Uptown Special is a great CD/download. I'd give it a 4 out of 5 with the standout track "Uptown Funk".
Available from Amazon.com
,
Amazon.ca in Canada
and
Amazon.co.uk in the UK
iTunes has Uptown Special download at a cool $7.99 Uptown Special – Mark Ronson.
Follow Stephen Pate
Twitter – @sdpate
Facebook at NJN Network
Add the NJN icon to your desktop
Subscribe and get new stories by email
By Stephen Pate, NJN Network