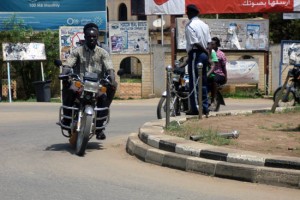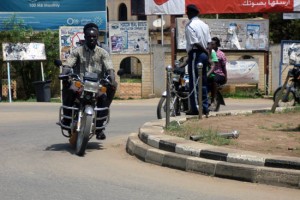 Hundreds of Boda-Boda owners in Juba yesterday outside their association main office in Jebel Market protested against the Interior Deputy Minister's order banning them entering the city centre and vowed for organization.
The Deputy Minister of Interior Lt.Gen Salva Mathok Gengdit on 19th of this month issued an order prohibiting Boda-boda users from entering the city of Juba. Mathok accused them of rampant road accidents causing death and injuries something dismissed by motorists in Juba yesterday. The order permits the motorists users to stop and drop their passengers at Seventh Day, Old Custom, University of Juba roundabout, Malakia police station and Mobil.
Boda boda riders most of whom semi educated said they are self employed, so they earn their living by carrying passengers to their final destinations in the town. Abraham Jok, the chairperson of the South Sudan Boda boda Motorcycle Association (SSBMA) said they were taken by surprise by the Deputy Minister's order banning motorbikes from entering the city centre. "City centre is not defined," stressed the Chairmen adding that if they are banned to enter the city centre then they will not make enough money to cater for their basic needs and for feeding their family members because most of them are unemployed youth.
"If bodas are banned, that is going to increase the high rates of unemployment already facing even graduates in South Sudan," reiterated Jok."The order is creating a gap between the rich and the poor, roads used by the poor and roads used by the rich," he criticized the issued order. Jok urged the motorists to be calm and wait to see their problem addressed by the concerned administration citing City Council office and the Interior Ministry.
"The order is fine but it is not about confiscating bikes," he said threatening that the association would open a case against the Deputy Minister should bikes be confiscated by the police get lost.Boda boda owners are charges of causing accidents on the roads but they on their part blamed the accidents on the vehicle drivers who drive while drunk, speedy and sometime drive while chatting on mobile phones. Jok complained that commercial buses are not enough for all road users but bikes are the main transport used by even government civil servants using them to go to offices in the banned areas called city centre.
The association chief coordinator Ladu Robert who described the step taken by the interior ministry as unrealistic and demanded a map showing them which is exactly Juba city centre that the order is talking about.Robert further said that boda boda deserved diversion by the police to the right direction but not to confiscate their motorbikes as the police had just done because they haven't committed any crime to have their bikes arrested or confiscated.