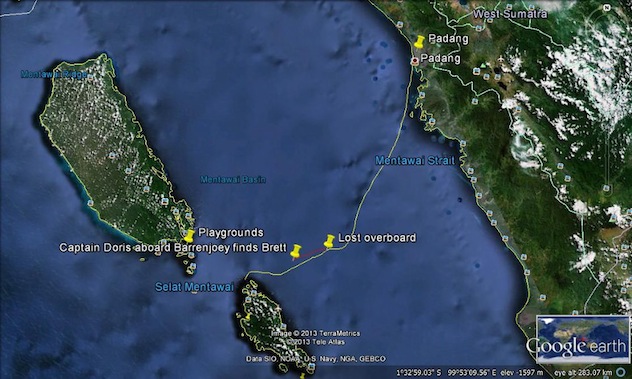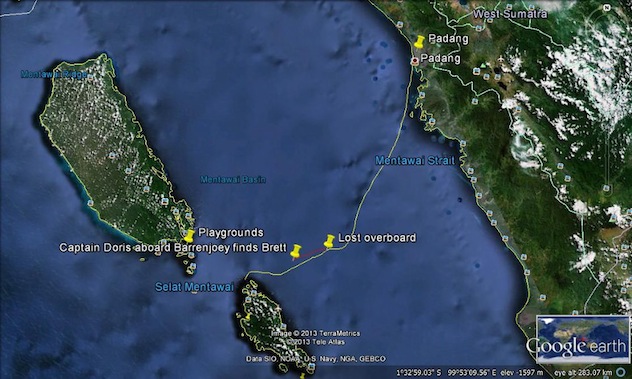 Brett Archibald, a South African surfer was rescued in the Mentawai Strait after he was lost for 28 hours. Archibald was making a surf trip on the Naga Laut boat chart, across the 90-mile channel between Padang and the Mentawais when he got lost.

The surfer was last seen at 4:30 in the morning. Despite extensive search conducted by Surf charter boats and Indonesian authorities, Archibald could not be found. The authorities eventually calculated the direction and strength of local sea and wind currents to limit the search. The surfer was found floating on his back in a stormy ocean, only 12 miles off the east coast of the Sipora Island.

"They eventually pinpointed the noise and found me in the binoculars and came and picked me up. I tell you, I'd never been so happy to see a boat in my entire life, even if it was full of Aussies! I'm a converted Aussie, I love these guys!" Archibald said.

Although Archibald was severely dehydrated, he narrated the entire story to his rescuers. His wife was glad to learn about the rescue operation.

"Brett told he'd been extremely sea sick and may have passed out on the deck of Naga Laut. He woke up already in the sea, behind the boat which continued away from him. No one onboard Naga Laut knew he had gone overboard," says Craig Lambinon, from the National Sea Rescue Institute.