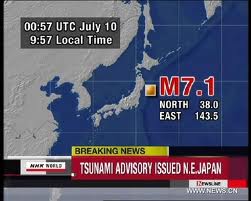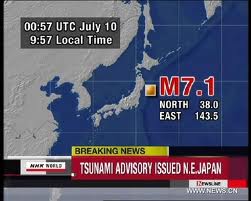 A 7.1 magnitude quake struck off the coast of Japan on Sunday at 9:57am local time. This was in the same general area of the massive quake of March 11. While tsunami warnings were posted and people fled to higher ground, the resulting wave turned out to be no more than 10cm or 4 inches. Workers at the Fukushima nuclear power plant were evacuated as a precaution however reports have said that there was no damage caused by the earthquake or the resulting supposed tsunami.
While this represented quite a scare for the country, the good news is that nothing happened. This is quite a change from March 11 where a 9.0 earthquake caused considerable damage to the country but even more so, the resulting tsunami devastated coastal regions. It is estimated that 22,000 people are missing or dead. This single event is now said to be the world's most expensive natural disaster with estimates of damages thought to be $300 billion.
Japan is known as one of the world's most seismically active countries.
Published on Jul 10, 2011 by Euronews
Japan in tsunami alert after new earthquake
A strong earthquake off the coast of northeastern Japan has triggered a tsunami warning and causing workers at the Fukushima nuclear plant to be evacuated. The warning has now been lifted and there are no reports of significant damage. The tremor with a magnitude of 7 struck just before ten in the morning local time, in the same area as that hit by a massive quake and tsunami in March that left at least 21,000 people dead and missing, and caused a radiation crisis.
Click HERE to read more from William Belle
Article viewed at: Oye! Times at www.oyetimes.com