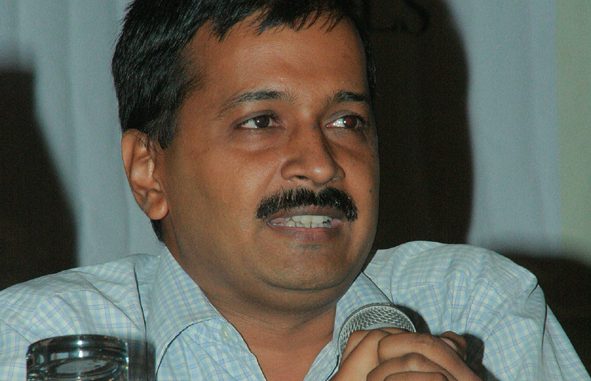 A flicker was created at a rally organized by India against Corruption here on Tuesday when a sandal was thrown at the chief guest, Arvind Kejriwal, as he landed from the car and moved towards the dais. The sandal-thrower, identified as Jitendra Pathak from Jalaun district, was overpowered by IAC activists. Police intervention saved the situation from deteriorating further.
Pathak, aged 40, was taken by the police to a temple near the venue, Jhule Lal Park, on the banks of the Gomti and seized. The meeting had begun by then. Later, he was whipped away amidst tight security. Even as IAC termed the incident an attempt to redirect attention and derail the movement against corruption, 'Team Anna' warned the UPA government that if a strong Jan Lokpal Bill was not passed in the winter session of Parliament, it would make sure the defeat of the Congress in next year's Uttar Pradesh Assembly elections.
Mr. Kejriwal, a prominent member of Team Anna's core committee, said Anna Hazare himself would come to Uttar Pradesh and appeal to the people to ensure that the Congress met the same fate that befell it in the Hisar by-election.
Addressing the congregation, Mr. Kejriwal referred to the Prime Minister's letter to Mr. Hazare in which he guaranteed the social activist that a strong Jan Lokpal Bill would be brought in the winter session of Parliament. It had been decided to wait until the winter session, he said. "However, if the UPA government fails to live up to its declaration it will be ensured that not a single vote is cast in favor of the Congress in the U.P. Assembly polls," Mr. Kejriwal said.
Denying that the anti-corruption movement had assumed the form of an agitation against the Congress, Mr. Kejriwal said that since the Congress was in power at the Centre it could only bring a strong Jan Lokpal Bill. "If the Bill is passed the complaint would be withdrawn," the social activist added. In a specific reference to Uttar Pradesh Mr. Kejriwal said a strong Jan Lokpal Bill was needed to curb the corruption of Mayawati, Mulayam Singh and the Bharatiya Janata Party."
Mr. Kejriwal said that Ms. Mayawati, Mr. Mulayam Singh and the BJP were not capable of bringing a sturdy Jan Lokpal Bill, but "Sonia Gandhi can."
Article viewed on Oye! Times at www.oyetimes.com