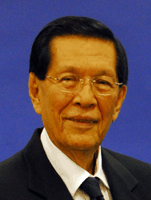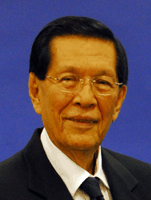 The presiding officer of the impeachment court handling Chief Justice Renato Corona's trial bursts in anger daring the prosecution team to seek his removal as the presiding officer for the case if they do not wish to go by his decisions.
After the court hearing on Wednesday, Enrile spoke to the media and said, "If they feel offended, then say so. Then they can ask for my exclusion. I will gladly give it to them. I will gladly give it to somebody that will handle it. I don't want to be controlled by them. I'm not controlling them. I don't want them to control the way I preside".
His reaction is in response to the attitude shown by the prosecution team over dismissing two witnesses that they wanted to present for the case as Enrile declared them irrelevant and asked the prosecution to avoid precious time of the court.
He further added, "We're not acting as a Senate at the moment. We're acting as an impeachment court and they are prosecutors of the House of Representatives. They're here as lawyers, and I respect them as lawyers. But they must show me as presiding officer that they know what they are doing. They must not tax my patience because I have no time."
Article viewed on Oye! Times at www.oyetimes.com