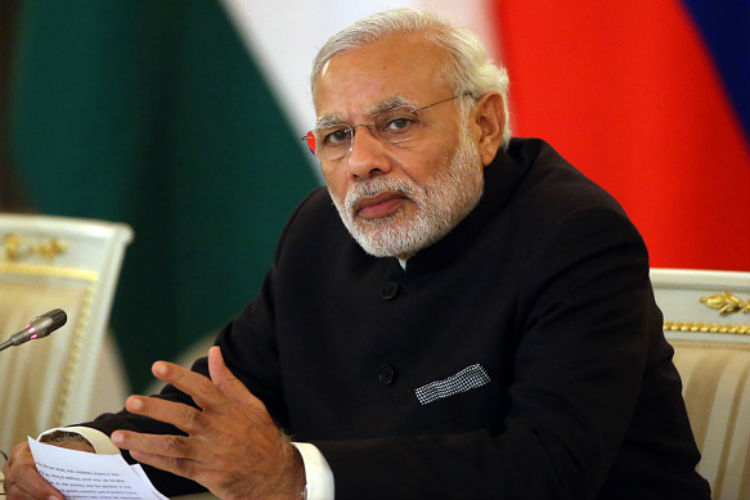 This article was last updated on May 26, 2022
Canada:

Oye! Times readers Get FREE $30 to spend on Amazon, Walmart…
USA:

Oye! Times readers Get FREE $30 to spend on Amazon, Walmart…
BJP held its national executive meet in Delhi today. Prime Minister Narendra Modi, BJP President Amit Shah, Chief Ministers of BJP ruled states, party's MPs and MLAs all attended this grand event to devise the strategy for Lok Sabha 2019. BJP govt. has completed c. 3.5 years (70%) of its tenure.
While Modi is the most popular leader in the country, a sense of restlessness is creeping in. Economy has been badly hit by demonetization and ill prepared GST. Unemployment data is not encouraging, and many corporates are laying off employees. All this doesn't come at a right time for Modi, with elections a year and half away.
The party has taken stock of the situation and build a strategy for 2019 which is built on 7 pillars.
Retain existing seats
BJP won an impressive 282 seats in 2014. This propelled it to record the best performance by any political party since 1984. In effect it could have formed government even without the help of its NDA partners. Retaining majority of these seats bucking any anti-incumbency is very crucial to repeating its 2014 performance.
Wrest other seats from opposition
Party has identified 123 winnable seats where it lost in 2014 by less margin. MPs and Ministers will be deputed to visit these constituencies to explain to the people work done by the party. A massive outreach program, focused at these seats is being worked out to lure people into voting for BJP in 2019.
A good performance in these states can make up for losses, if any, in states like UP, MP, Gujarat, Maharashtra and Rajasthan, where it could be difficult to repeat its 2014 feat, as party bagged 90%-100% seats in these states.
Expand presence in new (green-field) states
With more and more states falling in its kitty (BJP has formed governments in ten states after 2014 central elections), BJP strategy is to expand base in states where it has not been strong historically like WB, Orissa, TN and Kerala.
By the time polls happen in 2019, Mamata would be ruling West Bengal for 8 years and Naveen, Odisha for 19 years. These are significantly high time periods to develop strong anti-incumbency. In Kerala, weakening of Left as well as Congress nationally, may provide a chance for BJP to sneak in. In Tamil Nadu, its almost certain now that AIADMK will join BJP bandwagon.
This strategy will help in diversification of BJP's vote base nationally. Currently, BJP's presence is centered around Northern, Western and Central part of India. Expansion in these states will help it establish a footprint in South and East of India.
Expand NDA
BJP held the 2nd meeting of NDA partners recently, only 2 in 3.5 years of governance. It has shared a love-hate relationship with key partners namely Shiv Sena. It is likely that they will contest Lok Sabha polls separately in 2019. Partners blame BJP of being aggressive and not listening to their demands. However, despite these complaints BJP managed to get Nitish do a gharwapsi. Smaller parties in North East have been joining NDA. AIADMK is set to join as well.
BJP's rising graph, Congress party's downward spiral and huge resources with BJP, make it easy to hunt and onboard new partners. Induction of new members will also act as cushion to any deterioration in performance of current partners in 2019.
Expand vote segments
While BJP bagged 31% vote share in 2014, it couldn't get support of all caste, class, age group, gender in the same ratio. BJP underperformed, i.e., got less vote share than its average vote from women, poor, dalits, muslims and uneducated youth.
Source: CSDS Reports
All of these vote blocks will be targeted through various schemes. The party feels it can get support of Muslim women on triple talaq issue (partly evident in UP). The Ujjwala scheme of providing free LPG connections to rural women has won hearts for BJP.
With the weakening of BSP, party strategy is to wrest its Dalit vote block by economic schemes. BJP is believed to be a party of middle and rich class. Party is trying very hard to shed this image and some say taken a very leftist turn. 'Housing for All' by 2022, free medical heath scheme, insurance schemes, increase in NREGA budget, rural electrification, Jan Dhan etc. are all aimed at poor / lower class. All this is expected to have a huge impact on BJP vote share.
Maintain victory momentum in upcoming polls
BJP has won most of the elections where it was in contention post Lok Sabha 2014, except for Delhi and Bihar. In 2017, BJP could form governments in 4 out of 5 states. Maintaining this victory streak is very important. Elections to 6 states – Gujarat, Madhya Pradesh, Chhattisgarh, Rajasthan, Karnataka and Himachal Pradesh are due in next 1.5 years before Lok Sabha 2019.
BJP is in power in 4 of these states. 3 out of 4 states, BJP has been in power for 15+ years. Retaining these states and bagging Karnataka and HP is very important for BJP's 2019 pitch. Party cannot afford a loss going in Lok Sabha polls in any of these states. Any losses here could upset its calculations.
Communicate programs to people
Nobody can deny that BJP knows best how to advertise its achievements. Party is running the government like a corporate house, and using ad budgets effectively to ensure its message reaches the people. Messaging has to be different for different set of people as Trump campaign taught us.
While social media is being used to communicate with youth, electronic media is being used to target rural India, the rise in penetration of TV sets, is helping this strategy. Communication is a two way process and party has asked leaders and workers to get public feedback on the govt. schemes. This will help party to make tweaks in policies if needed.
To sum up, BJP means serious business. It has started preparations for next Lok Sabha elections 1.5 years in advance. Other parties are still grappling with internal issues or lack focus yet. Party's methodical approach to elections can be a case study for others to emulate. While slowdown in economy is a cause of worry, TINA factor and utter confusion in opposition camp, provides edge to the party. At this point it is clear favourites….
A variant of this article was originally published here.
Click HERE to view more.

You can publish this article on your website as long as you provide a link back to this page.
You can publish this article on your website as long as you provide a link back to this page.