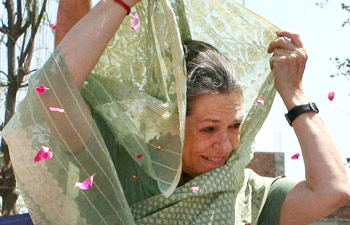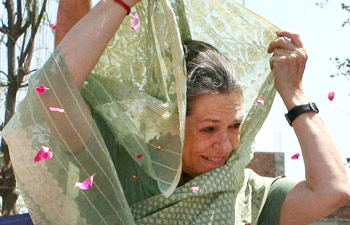 The Congress President Sonia Gandhi this Wednesday appealed to the minorities of India before the general elections, vowing to help nurture the cause of secularism. She also met the Muslim delegation led under the Delhi's Jama Masjid Imam, Syed Ahmed Bukhari.

The meeting with Bukhari was the first step of acquaintance between the head Imam of Delhi's one of the most important mosques and the Congress party during the last 30 years. In the 80s, the former Prime Minister Indira Gandhi had tried to gain a similar support from Imam Bukhari's father Syed Abdullah Bukhari, who was a loyal and committed Congress supporter. Meanwhile the Bhartiya Janata Party's president criticized Sonia's move and Rajnath Singh said that the Congress was practicing communal politics. "There is nothing wrong with asking someone for support, but Congress is one such party of the nation that has done communal politics as well as done the politics of dividing people, which is called as divisive politics. Congress has done it very well," he said.

Whereas the Former Uttar Pradesh Minister Shahid Siddiqui also criticized Bukhari and said that he was an opportunist who was not bothered for the welfare of the Muslim community. "For the past 20 years, Imaam sir (Syed Ahmed Bukhari) used to speak ill of Congress. He used to say that Congress is responsible for all the problems of the Muslim community and is worse than the BJP. Congress is the other face of the BJP. And now he is all ready to shake hands with that very Congress, this is a very peculiar matter. This means that he is not concerned with the welfare of the Muslims, he is only concerned with who is giving him support," he said.