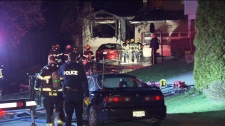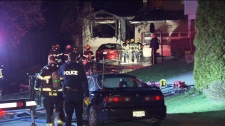 The RCMP has unveiled details into the incident when an estranged husband broke into the Langley home of his former wife overnight and set it on fire while she was inside along with her two children. According to Langley RCMP, the 44-year-old suspect entered the home on Wakefield Drive near 200th Street and ignited a fire before reaching his wife's bedroom, where he started hitting her in the head multiple times with an unknown weapon.
Meanwhile, the suspect's 13-year-old daughter stepped in to prevent him from assaulting her mother and received minute injuries in the act, whereas the eight-year-old boy in the home was not injured. However, the Mounties shared that the woman, along with her children, succeeded to escape the home in time and were later found by authorities at a neighbour's house. Consequently, the children were shifted to Royal Columbian Hospital, while the woman received treatment for non-life-threatening injuries at Langley Hospital.
In his statement, Cpl. Holly Marks revealed that the police is not sure if the man got out of the home before it burned down. Cp. Marks added that "Langley Township Fire Department has completed a primary search, however a complete search will not be possible until the house has cooled and firefighters can safely enter." According to Cpl. Marks, the suspect is a Langley resident who is known to police for previous violent domestic incidents. He confirmed that the case is being treated as attempted murder and the investigation is ongoing.