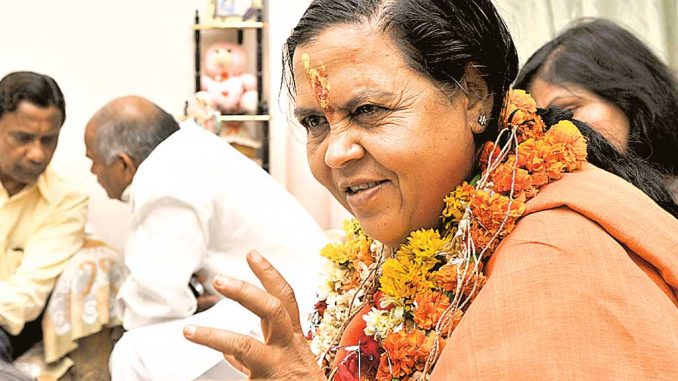 The senior Bharta Janata Party leader, Uma Bharti this Saturday today announced that Robert Vadra, the son-in-law of the Congress president Sonia Gandhi, has been able to get away with many frauds and if the BJP party comes to power at the Centre, he will definitely have to end up in jail.

"Son-in-law of Sonia Gandhi had been involved in several falsehood and after the election if BJP comes to power then you must be sure that he would be in jail," she told the media persons at a press conference today. She also made a statement concerning Vadra on Twitter. Her tweet reads, "Robert Vadra will not escape jail if BJP comes into power at the centre". Robert Vadra has been involved in various scams. The controversy around him surfaced in October 2012, when anti-graft activist Arvind Kejriwal and his associates accused Vadra of high forms of corruption. It turned into a political controversy ahead of the key state assembly elections in Gujarat and Himachal Pradesh.

Arvind Kejriwal had alleged that Vadra, husband of Gandhi's daughter Priyanka, purchased at least 31 properties mostly in New Delhi worth more than Rs.300 crore for which money has come from "unsecured interest-free loans from DLF Ltd". Both Vadra and DLF have been denying these allegations. The main opposition party Bharatiya Janata Party (BJP) demanded a probe into the matter. Earlier on Thursday Bharati had promised her voters here a separate Bundelkhand state within three years, if her party is voted to power at the Centre. "I am always in favour of separate Bundelkhand state. If my party is voted to power, I will ensure that Bundelkhand is made separate state within three years," Bharati said.