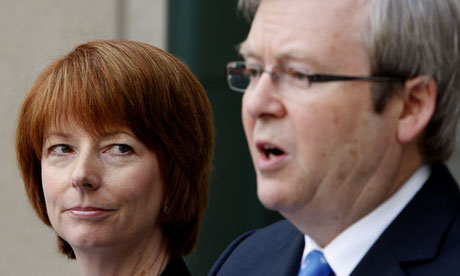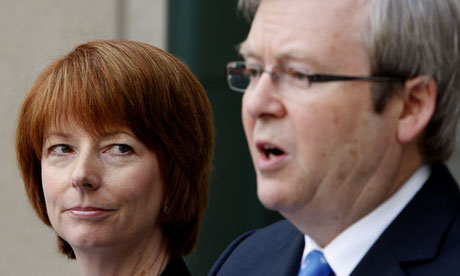 The Prime Minister Julia Gillard made an announcement early morning taking up the leadership challenge and specifying that the ballot will take place at 10am on Monday.
Economists and supporters of both party members have been demanding so since a while now. PM did her best to resolve the issue otherwise but was left with no choice but to take the challenge and show the public where the majority of votes lie.
Supporters for Rudd and Gillard are coming in open declaring their alliance and making accusation on the other party. It was mandatory to put an end to the situation so not to lose voter's as well as investor's confidence in the economy.
Chris Bowen, minister of the cabinet, declared his allegiance to Kevin Rudd and said that the ex-PM had a lot more to offer to the party with his 'orderly and efficient' manner of handling problems and advancing despite all hurdles. Mr. Bowen has a significant role in the cabinet and his support means a lot to the campaign of Mr. Rudd. Kim Carr, manufacturing minister, also declared to vote for Mr. Rudd since Ms. Gillard had demoted him in December.
Ms. Gillard made the announcement this morning and said, "I believe that we can win the next election and defeat Tony Abbott. I believe I can lead Labor to that victory, provided the Labor Party unites and we get on with the job. We need a leadership ballot in order to settle this question once and for all."
She ended her speech saying she will go to the backbench and never seek leadership again if she loses in the ballot.
PM made the announcement and set off to her routine work showing the people that her work being a PM is important and she will not give up on that no matter what.
Mr. Rudd on the other hand has booked a flight home and will be back from Washington in no time.
Article viewed on Oye! Times at www.oyetimes.com