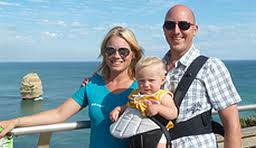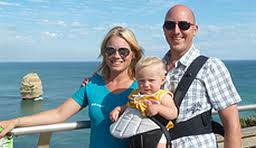 You get married. You go on a honeymoon. It's a dream come true; it's the start of a new life together. Right?
Stefan and Erika Svanstrom have been frequent travellers together since they met in 2007. In deciding to get married, they also decided to celebrate the occasion with a big trip. They got married on November 27, 2010 then left Stockholm, Sweden, with their infant daughter on December 6 for what was to be a four month honeymoon. However, they ended up getting caught up in six, yes, count'em six disasters.
First up, they were stranded in Munich, Germany, thanks to one of Europe's worst snowstorms. After facing crowded airports and flight delays, they had some luck in securing a flight to Singapore and headed to Southeast Asia – just in time for monsoon season.
The ill-fated couple went on to Cairns, Australia, which was then hit by a cyclone. They, along with 2,500 others were forced to shelter for 24 hours on the floor of a shopping center, not the most romantic of honeymoon settings, as they waited out Cyclone Yasi, a category five. Stefan reportedly said, "Trees were being knocked over and big branches were scattered across the streets. We escaped by the skin of our teeth."
Brisbane was next up for the Svanstroms, a town which was still suffering from the devastation of the massive flooding which struck Australia at the beginning of 2011.
They decided to go to Perth where they were met by raging bush fires.
The couple were determined to continue and headed off to Christchurch, New Zealand on February 22. While they were in flight on their way to the city, it was hit by a 6.3 magnitude earthquake. Erika was quoted as saying "When we got there the whole town was a war zone. We could not visit the city since it was completely blocked off, so instead we travelled around before going to Japan."
Yes, the family did end up in Tokyo, Japan only to have the country hit by its worst earthquake since records began. "The trembling was horrible and we saw roof tiles fly off the buildings. It was like the buildings were swaying back and forth," said Mr. Svanstrom.
So, the tally stands at six disasters: Munich (snowstorm), Cairns (cyclone), Brisbane (flood), Perth (bush fires), Christchurch (earthquake), and Tokyo (earthquake). Of course, this is leaving out their stay in Singapore in monsoon season.
Fortunately, they did end their trip on a peaceful note spending a few weeks in China without any incidents from Mother Nature. The couple returned home on March 29.
Is there a black cloud hanging over the heads of this couple? The Swedish paper Expressen noted that Mr Svantrom had survived the Boxing Day tsunami that hit Southeast Asia in 2004.
Mr. Svantrom ended his story to the papers by saying, "I know marriages have to endure some trials, but I think we have been through most of them. We've certainly experienced more than our fair share of catastrophes, but the most important thing is that we're together and happy. To say we were unlucky with the weather doesn't really cover it! It's so absurd that now we can only laugh."
(Telegraph, Time, DigitalSpy, CNBC, AOL Travel)
Euronews – Apr 6/2011
Disaster-prone honeymooners survive to tell the tale
Is it good luck or bad? A Swedish couple's honeymoon struck disaster six times. During their trip with baby Elinor they witnessed flooding in Australia, destruction in Japan and the earthquake in New Zealand. But they returned home safe and well. Stefan and Erika Svanstrom described their eventful journey: "It started with a snow storm in Germany that slowed us down for a night. Then it was the bush fires in Perth and also we had the monsoon and the storm in Bali, Indonesia.
Click HERE to read more from William Belle
Article viewed at: Oye! Times at www.oyetimes.com