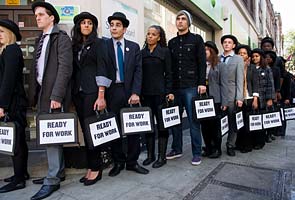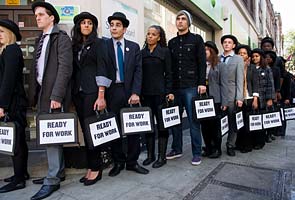 According to official figures, UK unemployment rose by 114,000 between June and August to 2.57 million, the highest in 17 years, while the young people without jobs have increase largely in number.
The unemployment rate has reached 8.1%, 0.1% more than analysts had been expecting and the highest total since 1994. The depressing figures reveal that the number of people claiming Jobseeker's Allowance in September has increased for the seventh month in a row, by 17,500, to 1.6m, the highest total since the start of 2010. Youth unemployment reached a record high of 991,000. The number of jobless 16 to 17 year-olds has also increased by 3,000 to 205,000, while long-term unemployment rose by 60,000 to 867,000.
The Government is being pressurized by the rising questioning from the public what measures it is using to combat rising unemployment. The ONS figures showed a fall in employment of 178,000 in the three months to August, the largest-ever cut in the number of part-time workers, down by 175,000.
The obvious reason may be the cuts in the public sector that have driven the drop in employment. However, changes to employment rules governing older workers could be responsible for the record reduction of 74,000 in the number of over-65s in employment. From October, it became unlawful to retire anyone on the base of old age. Women have also been badly affected by the financial crisis, with public sector severity cuts falling disproportionately on women who constitute the majority of the workforce. The figures show a 5.4% increase in the number of women unemployed in the year to August, compared to 4.1% for men.
Industrial experts said the figures laid bare the weak state of the UK economy and low business confidence. Howard Archer, chief economist at IHS Global Insight, said: Labour market is showing worst results. It is affecting the employment health of the country that has been resulted due to economic weakness, lower business confidence and mounting public sector job cuts. Meanwhile, ongoing muted wage growth is maintaining the serious squeeze on consumers' purchasing power.
Founder of graduate careers website Graduate Fog, Tanya de Grunwald has told that employment could have a scarring effect on young people as they lose their confidence and energy in some time. The long unemployment period will make their CV less attractive due to gaps mentioned.
Director of jobsite Totaljobs, John Salt has suggessted that the Government may help to turn the labour market around; it needs to consider offering incentives to companies to create the job opportunities, particularly for the youth.
Article viewed on Oye! Times at www.oyetimes.com