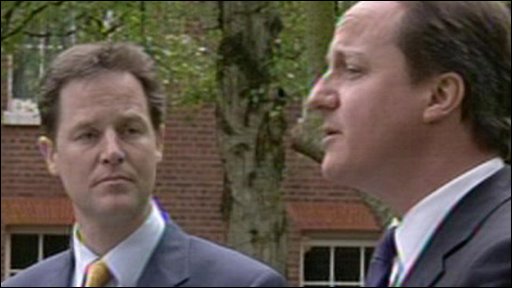 This article was last updated on April 16, 2022

U.K. Prime Minister, David Cameron and his Deputy, Nick Clegg, will today make a joint appearance where they will reaffirm their commitment to tackling Britain's record deficit and rebuilding the crushed economy in the face of continuing disorder prevailing in Europe.
M.r Cameron and Mr. Clegg are already observing the discontent among their MPs as a result of the economy that tripped into recession. During these growing tensions within the coalition following the defeat in last week's local elections, the Prime Minister and Deputy Prime Minister will pronounce their determination to work together and do "whatever needs doing to succeed".
Another difficulty that Lib Dems are facing in particular is to answer the main argument within the party about its recovery. According to the reports, senior figures within the Liberal Democrats are telling that the party may need to withdraw from the coalition well before the next general election to keep the hope alive for a favourable outcome in next general elections.
But Liberal Democrat MP, David Laws, a former chief secretary to the Treasury, has strongly opposed that the coalition parties are "growing apart". Mr. Laws stated: "We are overwhelmingly united on key priorities. I'm absolutely certain this is a coalition we've entered into for five years and we will see those five years through."
Mr. Prime Minister is believed to present that there is still continuing strength in the two men's partnership, aware that he cannot afford to remove Mr. Clegg. But he is getting pressurized to clearly show blue water between him and the Lib Dems in government. Mr. Cameron is also expected to yield a little to his party this week on House of Lords reform.
The current government is facing great turmoil due to its parliamentary agenda for the next year, as presented in the Queen's Speech tomorrow. It may look completely detached from what they state are their priorities and about which their supporters are concerned too.
The government is going to end up with bills that are the result of coalition negotiations to, for example, reform the House of Lords. It is certainly possible to carry out that reform in parallel with getting the economy moving. But if it heads-up a disorder between and within both coalition parties then it'll be a row that makes it on to the main news bulletins, and it may look as though government's priorities are priorities are conflicting with the public's.
Article viewed on Oye! Times at www.oyetimes.com.
You can publish this article on your website as long as you provide a link back to this page.