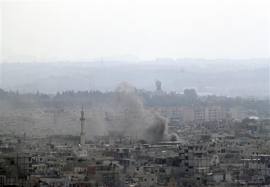 This article was last updated on April 16, 2022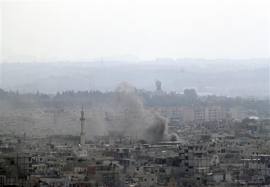 After 3 days of this on-going attack against the sea port of Latakia, reports are saying that 30 people have been killed. Amateur video purports to show tanks and armoured carriers roaming the streets as the sound of machine guns can be heard echoing between buildings. The Syrian government continues the propaganda that it is fighting terrorist gangs however activists say that the troops are targeting neighbourhoods where known demonstrations have taken place.
In a new development in the city, troops have attacked a Palestinian refugee camp. 5,000 of the 10,000 refugees were on the move according to a spokesman for the United Nations Relief and Works agency (Unrwa). The BBC has written that the Palestinian authorities are urging the Syrian government to safeguard the lives of Palestinian refugees. While going after the camp seems senseless, one video report explained that Palestinians had taken to protesting the Assad regime and the government troops are systemically going after anybody suspected of demonstrating against it.
Turkey issued something of an ultimatum to the Assad regime telling the Syrian government to stop all military actions now or else. They did not specify what "else" meant.
International Criminal Court
The Christian Science Monitor asked the question why the ICC has not issued warrants for Assad. As far as the ICC is concerned in the case of Syria its hands are tied. Why? Syria, like Libya (and the United States for that matter), isn't one of the 116 states that have ratified the Rome Statute that governs the court's jurisdiction.
"The only circumstance in which the Prosecutor can open an investigation outside the territory of a State Party is pursuant to UN Security Council Resolution, as has occurred in relation to Darfur and Libya or if the State accepts the jurisdiction of the Court as it happened with Ivory Coast," the ICC representative wrote to me. "The Prosecutor cannot even comment on what happens in crimes outside his jurisdiction."
So, no U.N. resolution for Syria, no arrest warrants. Well, no U.N. resolution yet. Will Russia and China come around? Just how much violence can they stomach before they, like Turkey, threaten to do something?
Aside: Back up a sec. The United States is not a member of the ICC? That's a fact. Wikipedia explains the reasons why in its article "United States and the International Criminal Court". Does a sovereign nation respect a "higher power"? It would seem that's a worry for America. Canada, on the other hand has signed and ratified the Rome Statute.
Uploaded by ReutersVideo on Aug 15, 2011
Turkey issues final warning to Syria
The Turkish Foreign Minister says there will be nothing left to say to neighbour Syria if military operations against civilians continue.
http://www.youtube.com/watch?v=mkgowvd_7fY
Uploaded by AlJazeeraEnglish on Aug 15, 2011
Syrian army assault on Latakia continues
The Syrian army is stepping up its assault on the coastal city of Latakia. Activists say the army has rounded up thousands of people, and taken them captive in a local sports stadium. And a UN spokesman says a Palestinian refugee camp in the city has come under fire, prompting thousands of refugees to flee.
Uploaded by Souria2011archives on Aug 14, 2011
Syria Army Damaging Mosque Minaret – Assad's War on Sunnis Continues – Hoole, Homs 9-Aug-11
August 9, 2011 video of Syria Army machine-gunning a Mosque Minaret in the town of Hoole in Homs Region. Assad is waging a War on Sunni Muslims as seen in his Army attacks on Mosques across the nation. Dozens of Mosques have been damaged and almost completely destroyed as the Assad army singles out Sunni Muslim mosques for intentional bombing and destruction
http://www.youtube.com/watch?v=EThbyGe1vto
Uploaded by Syria2011archives on Jul 18, 2011
Assad Army Strip, Beat, Leash Democracy Protesters – Daraa, Syria 7-18-11
This is not Israel brutalizing Palestinian Prisoners and this is not the United States Army beating and humiliating captured Afghans or Iraqis. This is Syria and it is the Dictator Assad's Army dragging Sunni Prisoners about like cattle in Daraa, the south of the country.
http://www.youtube.com/watch?v=VRh9g-TSYGY
Uploaded by Sub4SubNewsToday on Aug 13, 2011
Syria protests go on despite crackdowns [CNN 8-13-2011]
http://www.youtube.com/watch?v=uHrUAWaGnho
Uploaded by Sub4SubNewsToday on Aug 13, 2011
Bloodshed continues in Syria [NBC 8-13-2011]
http://www.youtube.com/watch?v=2ah40NlJG94
Uploaded by Souria2011archives on Aug 13, 2011
Syria " People Want to Execute the President" Chant Damascus Crowds
– 13-Aug-11 Al Midan
Al Midan Residents hit the streets and risk their lives to protest for Democracy and to Chant the following slogans:
"The People want to execute the president"
"We sacrifice our blood and soul for hama"
"We Won't Kneel but for God"
"God is Great ! Freedom !"
"To Heaven we are going – Martyrs by the Millions"
"The Bastard Sold Golan"
http://www.youtube.com/watch?v=bvxMXyWFPZM
Click HERE to read more from William Belle
Article viewed at: Oye! Times at www.oyetimes.com
You can publish this article on your website as long as you provide a link back to this page.