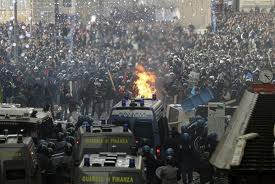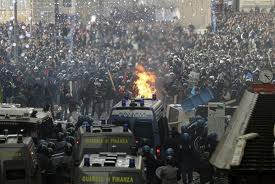 Inspired by the revolt in Tunisia, activists in Egypt took to the streets in Cairo on Tuesday, January 25 to protest President Hosni Mubarak's three decades in office and the resulting poverty and repression. It is reported tens of thousands of people marched and there were reports of parallel protests in Alexandria and other cities including Mansoura and Mahalla al-Kobra.
The government has now responded by banning any further demonstrations and saying protesters faced immediate arrest.
Seemingly energized by the toppling of the authoritarian government in Tunisia, the small protest of Tuesday morning grew throughout the day with protesters occupying one of Cairo's central squares, Tahrir Square. For some unknown reason, security forces were slow to deal with events and allowed the crowds to swell; normally such forces are quick to crack down on public dissent. By late Tuesday evening, the demonstrations turned violent. The police, firing rubber bullets and tear gas grenades, managed to clear the square but the sit-in turned into a spreading battle involving thousands of people. At one point, rock-throwing protesters overturned a police car and set it on fire while it was noted that police beat demonstrators.
While there were calls for a second day of demonstrations, Cairo's squares were quiet only filled with traffic under the careful watch of security forces in armoured personnel carriers. Authorities seemed prepared for fresh protests stationing forces around the city in front of government buildings.
While the government was quick to lay blame on Egypt's largest opposition movement, the Muslim Brotherhood, it would seem the origins of the protests come from a more general malaise. Opposition to Mr. Mubarak's rule seems to include average people angered by corruption and economic hardship. Such support from a broad spectrum of society could make it harder for the government to control the situation.
The organising of the protests apparently started with social networks such as Facebook and Twitter. Apparently more than 90,000 people signed up on a Facebook page for the "Day of Revolution" in the days leading up to the protests.
The Daily News Egypt: Egypt's Violent Day of Anger – January 25, 2011
http://www.youtube.com/watch?v=pgh1iOXI6sQ
Reuters: Day of anger in Egypt – January 25, 2011
http://www.youtube.com/watch?v=6Czslbh_Bnw
Al Jazeera: pictures
Click
HERE
to read more from William Belle.