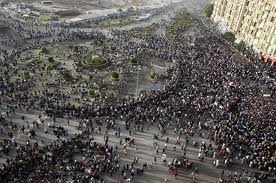 This article was last updated on April 16, 2022
Canada:

Oye! Times readers Get FREE $30 to spend on Amazon, Walmart…
USA:

Oye! Times readers Get FREE $30 to spend on Amazon, Walmart…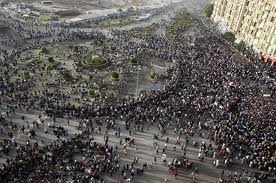 As of 10:45 GMT,
Al Jazeera
has reported a hundred thousand have gathered for a planned "march of a million" to call for Hosni Mubarak to step down. Early Tuesday morning saw thousands of demonstrators gathering in Cairo's Tahrir Square which has become the centre point for protests in the Egyptian capital. This is the eighth day of protests which so far has seen 125 killed.
The military is stationed throughout the capital but so far has done nothing to interfere with those gathering for the rally. It was reported that the military had stated recognition of the "legitimate demands" of the Egyptian people and pledged not to fire on protesters.
The Washington Post
reports as of 7:15am (2:156pm Cairo time) that tens of thousands are gathered in Tahrir Square. So far, their reporter says things are "buoyant and peaceful". It is telling though that the same reporter points out that this movement is lacking a leader or charismatic personalities and that there isn't a specific agenda other than ousting Mubarak. This may be a problem for the demonstrators if the movement remains disorganised. Certainly this is a weakness Mubarak will try or is trying to exploit.
Jordan: Update
The unrest in the region inspired protests in Jordan.
Reuters
is reporting that King Abdullah has dismissed the government and appointed Marouf Bakhit to replace the prime minister Samir Rifai. Demonstrators in Jordan have protested the social and economic problems in the country but supposedly have not challenged the king. So far, the protests have been peaceful and police has not intervened.
Political Leaders take cautious approach
Labelled a political hot potato, the popular Egyptian up-rising puts western leaders in a difficult situation. Canada and the U.S. and others support democratic freedom but do not want to meddle in the internal affairs of another country. The U.S. and Israel have enjoyed a strategically peaceful partner for decades even though that partner was, in reality, a dictatorial one. A change in Egypt's leadership would redraw the map and put everything back on the table. This would certainly upset the apple cart and may force everyone's hand about a lot of issues from various dictatorial rulers to the Palestinian question.
What started in Tunisia has certainly spread an idea to other countries. There have been copycat demonstrations in Algeria and Sudan and the news is filling with reports of other countries showing similar designs. Is there something in the air? Has the tide of change arrived in the Middle East?
The important question is how to avoid a bloodbath. There can be no doubt Egypt is quite a bit different from Tunisia and Mubarak has, for the moment, the support of the military. When push comes to shove, will the military support Mubarak and go against the people or will they back down and leave Mubarak to cede power?
Internet Access
Starting Thursday, January 25, 2011 around midnight, authorities shut down Internet access. This continues into Tuesday and who knows what effect this is having on business, never mind the protests.
The original organisation of the protests made heavy use of social media sites like Facebook and Twitter to get the message out to people. However the government clued in and thought to disrupt organisers by taking away their ability to exploit the Internet for rallying people.
For the weekend, it was thought this wouldn't mean much for the country as a whole but now we have started a new week and with a new week comes business. The question now is just what effect is the loss of internet communications having on Egyptian businesses?
Google
The Internet giant has come up with a novel way of circumventing the Internet blockade. It is offering 3 international telephone numbers where people can leave messages and the voicemails will be converted to text and posted to Twitter. Voice mail messages left at +16504194196; +390662207294 or +97316199855 and appear on Twitter with an identifying "hashtag" of #egypt. People can call the same numbers to listen to messages or hear them online at
twitter.com/speak2tweet
.
Associated Press – Feb 1/2011
Raw Video: Protest Preparations in Cairo
Tanks blocked roads leading to Cairo's Tahrir Square on Tuesday ahead of a planned march to demand the removal of President Hosni Mubarak. Several protesters spent the night at the square, which has become the epicenter of the demonstrations. (Feb. 1)
http://www.youtube.com/watch?v=xFomrNZy10I
Al Jazeera – Jan 31/2011
Egypt under Israel's spotlight
Israel hopes its three-decade-old peace treaty with Egypt will survive any change.
http://www.youtube.com/watch?v=oSfu3reCNqg
http://www.youtube.com/watch?v=x4bMI4h8mOw
Click
HERE
to read more from William Belle.
You can publish this article on your website as long as you provide a link back to this page.