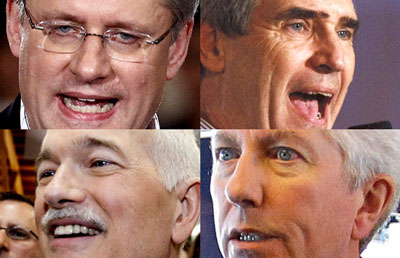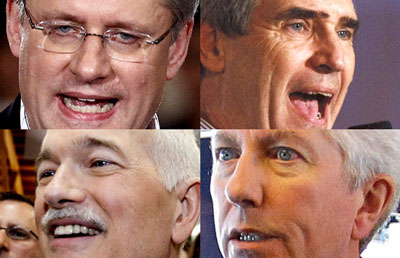 Yesterday the gap was 6%, today the EKOS-iPolitics poll says the gap is only 3%
Leaders in race with Layton gaining on Tories (Left Photograph Reuters, Postmedia News)
There are polls and polls of polls but the results all seem to support an NDP surge and possible 2nd place finish tomorrow in the election.
The May 1st poll from
EKOS-iPolitics
shows continued momentum for the NDP.
The Conservatives still lead with 34.8% of decided voters but the NDP are hard on their heels at 32.4%.
Statistically, that's the same number considering the margin of error.
The Liberals are at 20.4%, Greens 5.6 and Bloc 5.7.
Of course, national polling doesn't translate into seats because the NDP could lose seats in a three way split. They can also win them the same way.
The Montreal Gazette quoted EKOS "The gap between the front-running Conservatives and the rising NDP has narrowed to only three points, a new poll finds."
"The EKOS-iPolitics survey shows the Liberals trailing 11 points behind in an increasingly tight two-way race to the finish. Latest three-day polling data find the Conservatives with 34.6 per cent of support of decided and leaning voters, the NDP holding 31.4 per cent and the Liberals clinging to 20.4 per cent."
"And because the NDP holds a distinct advantage as the second choice for the greatest number of Canadians, pollster Frank Graves said the party still has room to grow if it wins over wavering voters in the final hours of the campaign."
"It's not impossible the NDP could come out tied in this election," he said.
Montreal Gazette

Polls tell the same story
Comparing the three major polls – EKOS, NANOS, and Angus Reid – the results show the same picture.
The best the Conservatives can hope for is a minority government as the NDP gains popular momentum with Canadian voters.
Averaging the polls, the Conservatives are at 36%, the NDP at 32% and the Liberals at 20%.
By Stephen Pate, NJN Network