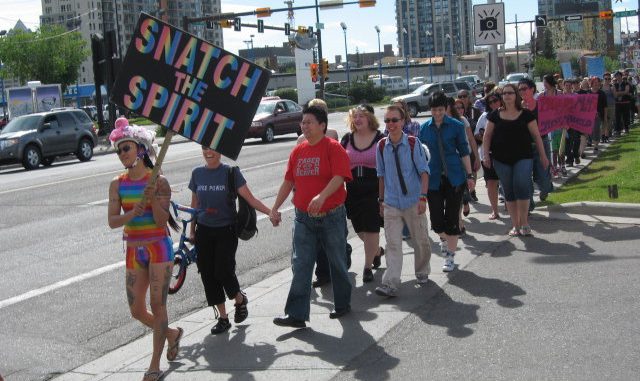 On Saturday, Canada witnessed the unity and determination of Lesbian supporters when Hawthorn, the co-founder of the Calgary Lesbian Seniors Group at the Kerby Centre, exhibited together with her supporters in the second annual Calgary Dyke March.
Calgary Dyke March is an occasion when Canadians celebrate the freedom of lesbian community and gripe against homophobia.
Jennifer Hawthorn, 71, says: "For many of us it doesn't enter our realm of reality, especially in my generation."
Hawthorn is a proud lesbian who came out after 25 years of marriage and giving birth to three healthy sons.
The Century Gardens in downtown Calgary was dipped with colors when over 300 enthusiasts walked from Millennium Park rolled out colorful signs stating "I Heart Dykes" and "Support Your Local Dyke" and came together in the park for a melodious evening.
Calgary Outlink carried out studies on domestic abuse in a proposition to encourage counseling services for abuse victims in same-sex affairs.
According to Hawthorn, she showed up to encourage those who are her think-alike. She said the group was formed three years ago to give elder lesbians at the Kerby Centre a platform to voice their views.
Hawthorn said: "But I would've come anyway. It's important for people to see young dykes, all dykes, out and to hear our message. We are looking for equal rights. In government, we have gay marriage and antidiscrimination policies. But that doesn't mean that happens in the real world."
Article viewed on Oye! Times at www.oyetimes.com