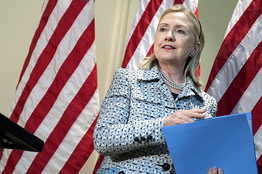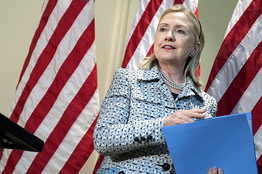 In a bid to extend improved support to Libya's new leaders Secretary of State Hillary Clinton made a surprise visit to Tripoli and vowed aid worth millions of dollars which also included medical coverage for injured soldiers and supplementary assistance to protect artillery that many fear could fall into the hands of terrorists.
According to a statement by U.S officials the aid given by Hillary Clinton is worth $ 11 million. The aid will also boost Obama's administration's contribution to Libya since the uprising against Moammar Gadhafi began in February to roughly $135 million.
Other then the aid package the U.S administration plan to renew quite a few educational programs which will include the Fulbright scholarships and English-language training, and help fund an archeological project that will survey eastern Libya.
The officials said that Ms. Clinton in her visit will stress the significance of good governance inclusion, democratization and diversifying Libya's economy so that its stops relying heavily on the revenue produced by its oil reserves.
Officials said Ms. Clinton would also raise the case of the Lockerbie bombing with Libyan officials. Last month, Scotland asked Libya's new authorities to help track down those responsible for the 1988 bombing of Pan Am Flight 103 over the Scottish town. It killed 270 people, most of them American.
Article Viewed on Oye! Times @ www.oyetimes.com