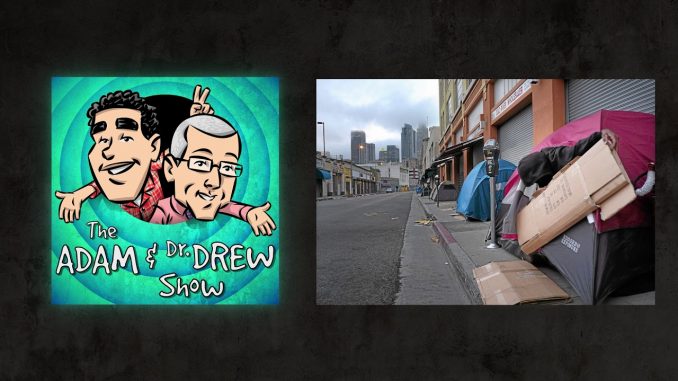 While Washington spends hundreds of billions of dollars annually subsidizing America's defense industry, social issues that receive relatively little media coverage continue to plague the "homeland". Here is a prime example:




Here is a discussion between Adam Corolla and Dr. Drew Pinsky (aka Dr. Drew), an American internist and addiction medicine specialist about the current situation in Los Angeles and the greater Southern California region:
Here is Dr. Pinsky once again weighing in on the same problems with homelessness, rats and epidemic outbreaks:
According to the United States Interagency Council on Homelessness, in January 2018, California had an estimated 129,972 people experiencing homelessness on any given day. Of that total, 24,332 were chronically homeless, 12,396 were young adults between the ages of 18 and 24 and, most embarrassingly, 10,836 were veterans.
Here is a table showing the size of the problem in California:

According to HUD, on any given night in 2017, 553,742 people were experiencing homelessness or 17 out of every 10,000 Americans. California "provides" nearly 25 percent of America's total homeless population, the highest of any state in the U.S. with a ratio of 34 homeless people out of every 10,000 Californians.
Why does California have such a homeless issue, an issue that is leading to the potential for a very significant infectious disease outbreak? According to Steven Greenhut at R Street Institute, California simply is not building enough housing largely because of regulations that add 6 percent to 18 percent to the cost of a home. The lack of housing has led to extremely high housing costs (demand outstripping supply) and a situation where California's housing costs, particularly for renters, are extremely high when measured against household income. Here is a chart showing the percentage of households in California that are suffering from a housing cost-burden or a severe housing cost-burden from the California Budget and Policy Center:

The high housing cost strain is even worse for low-income households in California as shown here:

This problem is not isolated to Los Angeles. As shown on this graphic, the housing cost problem is widespread throughout the state as shown here:

California's extremely high cost of housing has led to a series of unanticipated consequences; an increase in homelessness which is accompanied by an increase in the potential for the spread of infectious diseases thanks to a growing problem with an exploding rodent population associated with the accumulation of trash.
Let's close with this story about the situation in California from Fox News:

This sounds like a problem that would occur in a nation with a developing economy or an issue that faced a medieval society, doesn't it? And yet, Washington insists that the entire world must want to emulate its successful societal model.
Click HERE to read more from this author.


Loading ...