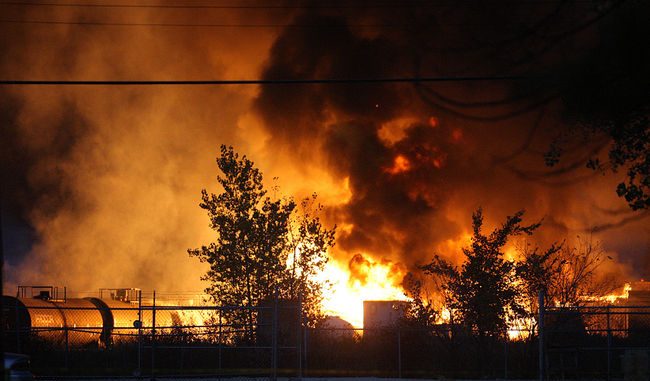 A huge fire is witnessed above a fuel company in Winnipeg, which exhibited blazing hot, ground-shaking fireball far above the ground into the sky. Consequently, most of the nearby homes and businesses were vehemently evacuated after the firefighters were called to the situation around 5:30 p.m. on Monday. The company, Speedway International Ltd., located at city's St. Boniface neighborhood distributes racing methanol, i.e. a flammable liquid.
A neighbor resident of the factory, Kayla Lauzon, said "I thought we were going to blow up," as she suspected even more explosions. Several blasts of a lesser degree were observed afterwards as well. Majority of the houses and business were emptied, belonging to a 1-kilometre radius near the fire. Emergency co-coordinator, Randy Hull, told that city had offered buses for evacuees, but majority were comfortable to make their own arrangements. Hull added that "when we knock on the door, we give them a couple of options, and usually they exercise the option of going to friends or family." City spokeswoman, Michelle Bailey, explained that the abrupt evacuation is necessary as the "(Firefighters) are worried there's going to be more explosions."
The website of the company states that it also distributes products used at railway. Firefighters have been witnessed to be in attempts to control the flames by spraying water, keeping a safe distance of several hundred meters. Most of the routes headed to the area are blocked to avoid traffic, as the huge cloud of smoke gets noticeable even from outside the city.