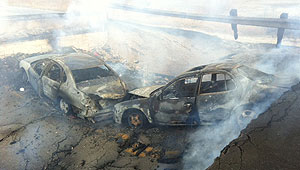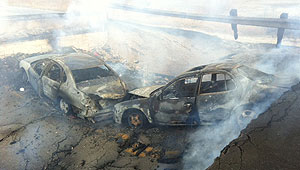 The residents living in the southeastern Manitoba's town of Vita awoke to see a very changed neighborhood today. Houses of four families were burnt in the process, as a grass fire blew up the area on Tuesday.

The grass fire also got to the bridge on Highway 201, leading to a collision of two vehicles as the smoke particles impaired the visibility of drivers. The firefighting crew of the area attended to the situation and successfully rescued the drivers trapped in an inexplicable situation. They were able to walk home without any considerable damage.

The grass fire started on Monday afternoon, due to the fueling of blustering winds of tremendously dry conditions. Jim Swidersky, a resident of the area, described that "the fire jumped mile roads and was billowing straight into town. There was no recourse to contain the fire at all, it was just a rolling fire," and that "the velocity of winds threw the fire in an insurmountable way." Jarvis Podolsky witnessed two of the nearby houses being burnt down by the fire and later mentioned that "I'm sorry to see that happen to them because you lose a neighbour, you lose homes."

Numerous homes, local school and a seniors' residence had to be evacuated, while some roads were also closed for traffic. It was not until after few long hours that people were permitted to return to their residence.