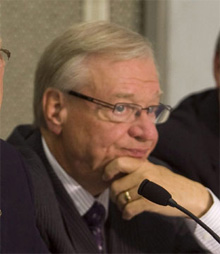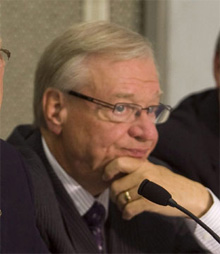 Mayor of City of Laval, Gilles Vaillancourt, has affirmed very calmly that he will not be resigning any soon. He made his first public appearance this Friday afternoon, after the Quebec anti-corruption investigators raided the city hall and his residence. Vaillancourt, the mayor of Quebec's second-largest city since 1989 and a city council fixture since the 1970s, stated plainly that "I will not be resigning."

Vaillancourt declined any questions from the media about the investigation by the Unité permanente anti-corruption unit. He did not confirm or deny all the countless rumors viciously encircling the city hall. A confirmation was received from a police official, who confirmed that the UPAC investigators are affirmatively investigation the possibility of Vaillancourt having a secret Swiss bank account. The 71-year old mayor claimed that "I must confess what I am facing today comes as a total shock to me," and that "this is not a pleasant situation for me and I decided to speak today to show transparency and to reiterate that I and my administration have always acted in the best interests of the citizens."

The Charbonneau Commission learnt about Vaillancourt's involvement just last week as a former construction entrepreneur, Lino Zambito, decided to come forward and come clean. He described elaborately how the system was rigged in the municipal contracts of the city of Motnreal concerning the industry entrepreneurs and every level of government officials of the time.