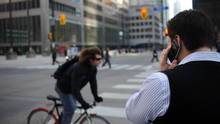 This article was last updated on April 16, 2022

A recent development has assured that dropped calls and uneven service will become an obsolete issue for majority Canadians that often journey beyond coverage area of their cellphone company, as now the government is aiming to execute a series of amendments objected to reduce the prices for cellphone users across the country.
The government is announcing a new set of rules before declaring an official date to auction wireless spectrums, which are amiably aimed at allowing new entrants to enhance competition with established cellphone providers by ensuring each region of Canada will have a minimum of four companies contending for customers. The government is planning to stricken the rules, before the auction, regarding how cellphone companies work together to serve their customers. The most noticeable amendment has made it obligatory for companies to allow customers of other carriers to "roam" a different carrier's coverage area instead of experiencing no service due to leaving their own carrier's towers in the area. The Industry Minister, Christian Paradis, mentioned in the press conference on Thursday morning that "no Canadian should be left stranded simply because he or she is outside the range of the chosen service provider."
The government initially suggested mandatory roaming in 2008, and now, majority agreements tend to expire, whereas enforcing new laws was also becoming a difficult due to a long arbitration process (which the government now intends to rectify for assuring better conformity). At the same time, one of the biggest obstruction for the establishment of new companies was to build new network of towers.
You can publish this article on your website as long as you provide a link back to this page.